This post lists the possible solutions for the Chrome message, "This setting is enforced by your administrator." If you get this message, all the settings of the browser will be locked and you will not be able to make any changes like updating the password, changing the search engine, etc., on Chrome. Some users may also get the message, "This setting is enforced by an extension."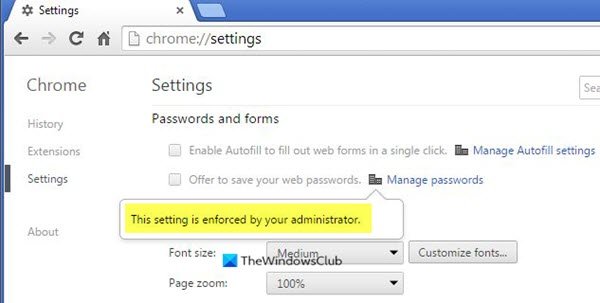 This setting is enforced by your administrator – Chrome
Follow the below-listed methods to get rid of this issue.
Reset Chrome's policies to default
Delete this Registry key to reset policies.
Change the file extension in File Explorer.
Check the PasswordManagerEnabled key in the Registry Editor.
Run an antimalware scan.
Let's discuss these methods one by one. You will need to be signed in with an Administrator account. If not, then you need to contact your system administrator.
Before you begin, we suggest you create a system restore point.
1] Reset Chrome's policies to default
This method works for most of the users. To update the policy, you have to run the Command Prompt as an administrator. For this, type cmd in the search box of Windows 10 and right-click on the Command Prompt app, and select "Run as administrator." Now type the below-listed commands one by one and press Enter after typing each command.
RD /S /Q "%WinDir%\System32\GroupPolicyUsers"
RD /S /Q "%WinDir%\System32\GroupPolicy"
gpupdate /force
After these commands execute successfully, restart your PC. If you still get "This setting is enforced by your administrator" error in Google Chrome, try the next method.
Read: How to verify Settings with Group Policy Results Tool (GPResult.exe).
2] Delete the newly created policies using the Registry Editor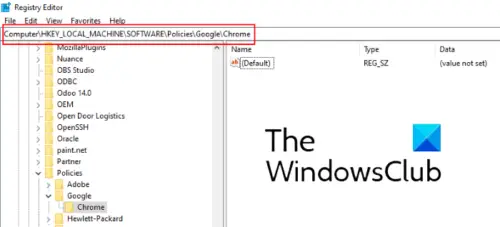 If any malware has entered your system via Chrome while downloading third-party extension or software, it may create new policies in the Registry Editor of your Windows 10 PC and you will get this error. To eliminate the error, you have to delete these newly created policies. Follow the below-listed steps after backing up your Registry.
Type regedit in the Run window and click OK to launch the Registry Editor. Now, go to the following path manually or simply paste it in the address bar of the Registry Editor and press Enter.
HKEY_LOCAL_MACHINE\SOFTWARE\Policies\Google\Chrome
Delete this Chrome key, close the Registry Editor and restart Windows 10.
3] Change the file extension in File Explorer
If the above methods did not work for you, you can try changing the file extension in the File Explorer. Launch the File Explorer and type the following in the address bar and press Enter:
C:\Windows\System32\GroupPolicy
Open the "Adm" folder and rename all the .pol files to .sav. After that, open the Machine folder and change the name of registry.pol file to registry.sav.
4] Check the PasswordManagerEnabled key in the Registry Editor
If you do not want to change or delete anything on your system, you can try this solution. Open the Registry Editor and go to the path mentioned in method 2 above. If you find there the PasswordManagerEnabled key, check whether it is set to 0 or 1 by double-clicking. It should be set to 1. If not, change its value and restart your computer.
5] Run an antimalware scan
If none of the above methods work for you, you may have malware hiding in your system. For this, you have to scan your system with a good antimalware program – as well as AdwCleaner.
Malware or viruses generally enters our system when we visit a malicious website or download any file or browser extension from an untrusted website. You should be careful while surfing the internet. Always install a good antivirus in your system.
We hope, this article helped you solve the problem.
You may also like to read: How to fix file download errors on Google Chrome.