Many times you will find it really hard to manage your files and folders using the native Microsoft Windows File explorer or manager. This happens especially when you have to deal with dozens of folders on your system. So instead of investing so much time managing all the files, make use of Unreal Commander.
Unreal Commander for Windows PC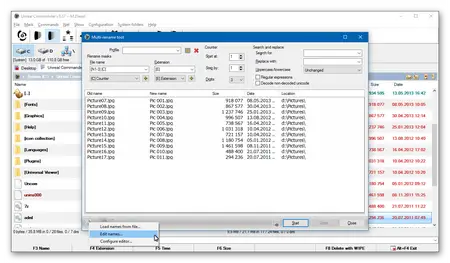 Unreal Commander is a free file manager software that works perfectly and effectively managing your files on the system. Unreal Commander is a total replacement of old traditional Windows File Explorer with more functionality and a better user interface than any other freeware of its category.
The process of installation of the software is very simple to understand and apply. All you need to do is to download the software. The rest of the task is quite simple.
Initially, as soon as you run the setup file of the software a welcome setup wizard window will appear, followed by other windows like license agreement, destination folder selection window, thereafter a window asking you whether you want to have the application on the Start Menu or not. Finally, when you press the install button, the software gets installed and is ready to use now.
Features of Unreal Commander file manager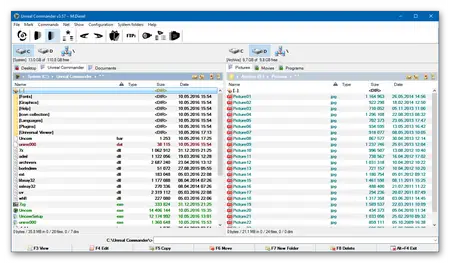 Some of the most important features of the freeware applications are as follows:
Two

-panel interface
Multiple

rename

tools with the help of which you can rename multiple files at the same time
Support all basic file manager functions like Copy, Move, Delete, Rename,

etc

Background picture support
Drag and drop function support
Built-in FTP client with the help of which you can upload your files to the FTP server
Archives support like ZIP, RAR, ACE, CAB, JAR,

etc

Plugins support
Visual styles support
In order to manage your files, this File Manager software has buttons on top of the main windows from where you can easily access its main features. There is a total of eight drop-down buttons on top of the window from where you can perform all your operations. These eight buttons are as follows:
 1. File: Operations like renaming, changing attributes, splitting and combining files, extracting archives, creating and verifying hash files, etc. can be very easily done with the various options that are available in the file drop-down menu list.
 2. Mark: Mark drop-down menu consists of those options that are a concern with a selection of files like if you want to select or unselect files, then you can find options for that here in Mark drop-down menu list. Other operations like copy files name, directories comparison, etc. can be done here easily.
3. Commands: With command listed options you can move directly to the root directory, parent directory, forward, backward, perform a search, and multi-rename operations. You can also edit the panel path and run DOS from here.
4. Net: Here at Net, all FTP-related options are there like establishing new connections, network connections, disconnect network devices, etc.
 5. Show: There are many options in the Show drop-down menu list like show system files, show hidden files, filter, size, time, etc. You can make use of any of the options to complete your operation on files.
6. Configuration: Here if you want, you can store settings in the registry, clear your history, choose the theme, export setting, etc.
7. System Folders: In the system folder, you can find all necessary systems-related files and folders. "User's", "Resources", "Unreal Command's Directory" is some of its options.
8. Help: The help section will help you in your work by providing you the information about the shortcut keys as well as knowing the new version of the software.
Unreal Commander download
Many would feel that Unreal Commander is very much similar to the popular Total Commander file manager. However, in no way it looks like a copy of Total Commander, instead, it tries to improve upon and offers an impressive line of features making it a real utility application. If you would like to check it out, visit its download page.