If you are facing a situation where you have uninstalled apps, but they keep coming back, i.e., reinstall after reboot or with a Feature Update, this post will help you solve the problem. Microsoft Store is known to cause these types of issues, and they usually reinstall the app out of nothing. Similarly, Feature Updates tend to install apps along with their updates.
Uninstalled apps return and keep coming back after reboot
These are some of the methods that can help you uninstall these apps which keep coming back. Some are suggestions, while others are from a shared user experience that worked for them.
Is your computer part of School or Corporate?
Are you looking at Ads?
Update Apps before uninstalling
Take Ownership of WindowsApps Folder
Uninstall Apps using PowerShell Script or 10AppsManager
You will also need admin permission to execute some of the solutions.
1] Is your computer part of School or Corporate?
The computers which are part of an organization or business and schools will have this problem. Because of policies, those apps have to be there, and the IT admin has configured so. If the answer is yes, it is best to connect with the IT and seek their help to sort this out.
2] Are you looking at Ads?
Microsoft is known to put up advertisements for apps as recommendations. You may be looking at an ad that feels like the app is installed. When a user clicks on it, it will download directly from the store, and you can see the progress in the Start menu.
These Windows 10 advertisements can be blocked, and we recommend you follow our detailed guide on how to turn it off.
3] Update Apps before uninstalling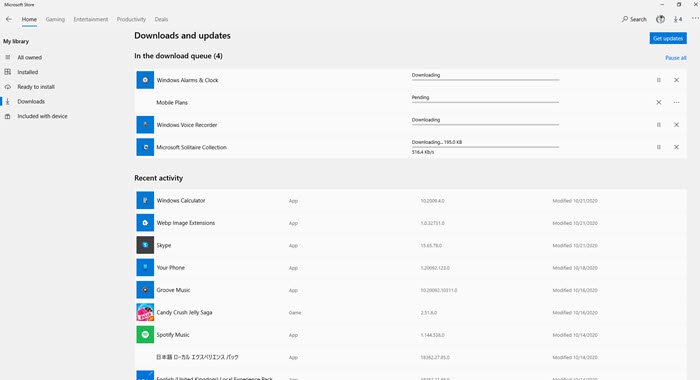 It is an odd suggestion but has been reportedly worked for some. Before uninstalling an app, make sure to update it completely from within the store.
Got to the Windows Store, click on the three-dot menu, and then click on Download and updates. It will check for any pending updates and install them. Once you are sure everything is up to date, uninstall the app, and hopefully, it will not come back.  You can also click on the Get Updates button to manually check for a pending update.
4] Take Ownership of WindowsApps Folder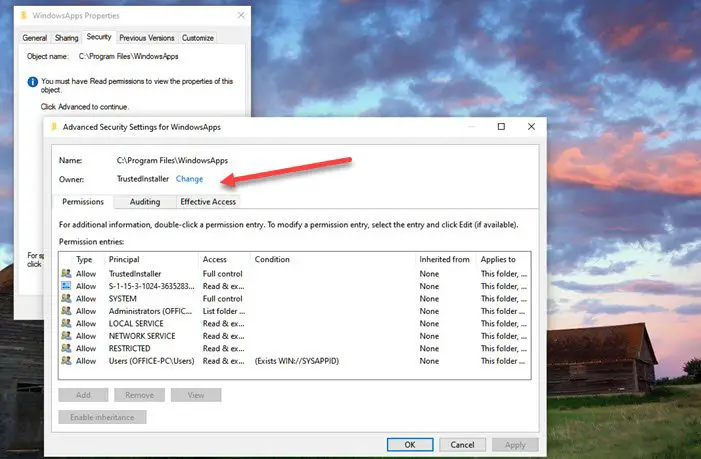 Windows System User accounts control the WiodnowsApps folder. They can install the apps when needed. However, you can take ownership, and then only you can install and uninstall apps from there. The folder is located at C:\Windows\WindowsApps
Please read our detailed guide on how you can take ownership of any folder. In summary, you need to remove Trustedinstalled and Add your account to it.
Some of the apps are installed at a different location, i.e., Mail & Calendar. You can uninstall it from Windows Settings > Apps > Apps and features or using the uninstaller script or below-mentioned software.
5] Uninstall Apps using PowerShell Script or 10AppsManager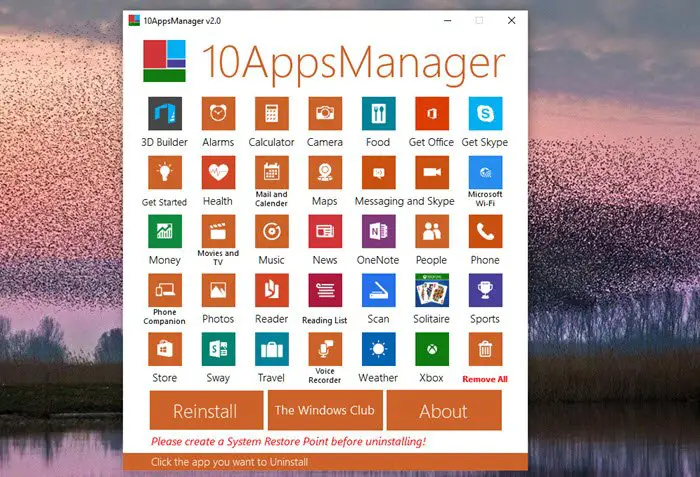 If nothing else works, you can keep a script ready to uninstall these apps. Some of the system apps are known to come back. You can follow our guide on how to remove these apps for good. You will have to use PowerShell and Get-AppxPackagecommandlet to uninstall these apps. It's a cumbersome method, but that's the last method one can try.
10AppsManager is a powerful and feature-rich uninstaller that can remove such apps without special skills. If you are an admin user, you can use this to remove these apps. You can also use the software to installs apps that are necessary.
I hope this post was helpful, and you were able to get rid of the apps which keep returning after a reboot.