Microsoft hooks up every computer running Windows 11/10 with an Advertising ID. This helps them to provide them with relevant ads. These advertisements are delivered to the user in the Action Center, Start Menu, as well as the advertisements inside of UWP Applications. These advertisements are relevant because, with the help of the Advertising ID, they keep track of your likes, dislikes and browsing trends. But if you think that you dislike this feature of Microsoft tracking your usage, you are in luck because that is possible.
We have already seen how to Block Ads in Windows 11/10. Today, we will be discussing how to disable Targeted Ads, by turning off Advertising ID, during Windows 10 Setup or via Group Policy later.
Turn off Advertising ID to disable Targeted Ads
We will be checking out the following two methods that will help you to disable Targeted Ads with your Windows 11/10 Advertising ID-
During Windows Setup.
Using the Group Policy Editor.
1] During Windows Setup

If you are installing Windows 10, then your computer boots into the Install and Configure Windows 10 Screen with Cortana assisting you during the setup, on the last page – Choose privacy settings for your device, you will see Advertising ID.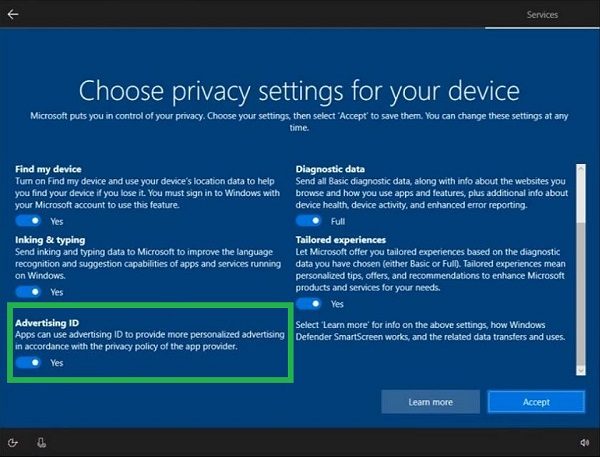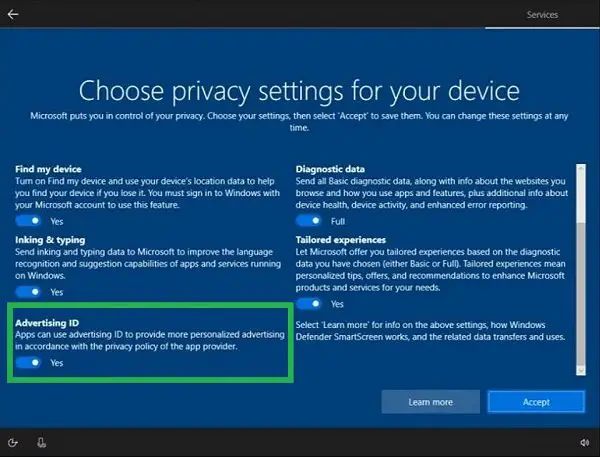 Under Advertising ID, disable or toggle off this option – 'Apps can use advertising ID to provide more personalized advertising in accordance with the privacy policy of the app provider.'
Click on the button labeled as Accept.
Now, the copy of Windows 11/10 installed will have the Advertising ID turned off by default.
2] Using Group Policy Editor

Type in gpedit.msc in the Start search box and hit Enter. Once Group Policy Editor opens, navigate to the following setting-
Computer Configuration > Administrative Templates > System > User Profiles
On the right side panel and double click on Turn off the advertising ID and set the radio button to Enabled for it.
This policy setting turns off the advertising ID, preventing apps from using the ID for experiences across apps. If you enable this policy setting, the advertising ID is turned off. Apps can't use the ID for experiences across apps. If you disable or do not configure this policy setting, users can control whether apps can use the advertising ID for experiences across apps.
Setting the radio button as Enabled or Not Configured will turn off the data collection with the help of the Advertising ID.
Exit the Group Policy Editor and then reboot your computer for the changes to take effect.
How did that work out for you?