Like other formatting symbols, Paragraph Marks can be of huge help. But you can turn off these Paragraph marks in Word if you wish to. When it comes to identifying the best word processor for Windows Operating System, there is no better contender than Microsoft Word. This software has been there for decades now, and over time has become extremely powerful with its rich features.
One of the many amazing features of MS Word is the ability for the users to see an array of diverse symbols which are crucial for formatting text in a document. No doubt this is one great feature, but have you ever opened a Word document to find it full of paragraph symbols? Like other formatting symbols, the paragraph symbols can be of huge help in some cases. But, in some instances, these symbols can make a document harder to read as they make text look unreasonably busy. Luckily, you can turn the paragraph symbols on and off in Microsoft Word and it is easy to do.
What are Paragraph Symbols or Marks in Word
Microsoft Word includes several options for formatting a document, one of them, as we said, is to view invisible marks which include spaces, tabs, and paragraphs. In the case of paragraph symbols for example, as a substitute for having a blank space in place of a new paragraph, a "¶" symbol appears in place of paragraph breaks. Simply put, whenever a new paragraph is created in a Word document, this paragraph symbol is added to where the paragraph starts. This feature is used mainly for advanced formatting tasks. It can be handy for those who need to see if there is a paragraph on an empty page in a document or when a user is looking to format or clean up the document. But again, such symbols make the document harder to read, as it muddies it with numerous symbols.
By default, the paragraph symbol in Microsoft Word is hidden, but users can activate or deactivate it on Word according to their needs.
Turn off Paragraph marks in Microsoft Word
Here we discuss two different techniques you can go about to turn the paragraph symbol on and off in Microsoft Word:
1] Use the Hide/Show paragraph marks button present in the toolbar
MS Word has a separate button for turning the paragraph symbols on and off, it is called the formatting marks button. This button looks like this '¶' and is present in the 'Paragraph Group' on the MS Word toolbar. Using the Show/Hide Formatting Marks Button is incredibly easy, follow these steps:

Launch Microsoft Word
Go to the 'Home' tab or the main toolbar on the Microsoft Word document.
Locate the 'Paragraph' group of the toolbar.
Identify the 'Show/Hide Formatting Marks' button which looks like this – '¶'.
To activate the 'Paragraph Symbol' click on the Formatting Marks button.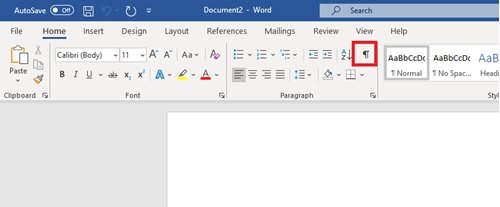 If you want to turn it off, you will have to click on it again.
This method is extremely straightforward and simple to use, but many users report that it does not work. This is especially true for those who have only Word display paragraph symbols on and hide all other formatting symbols used by the Microsoft Word processor. If this method does not work for you, try the one mentioned next.
Related read: How to delete a blank page at the end of a Microsoft Word document.
2] Removing the Paragraph Symbol in Word by configuring Options
This method will guide you to open the Word Options dialog box, and then configure Microsoft word option to turn on/off paragraph symbol. Please do as follows:
1] In Microsoft word, click on 'File'
2] Now, select 'Options' to open the Word Options dialog box.
3] In the Word Options dialog box, click on 'Display'.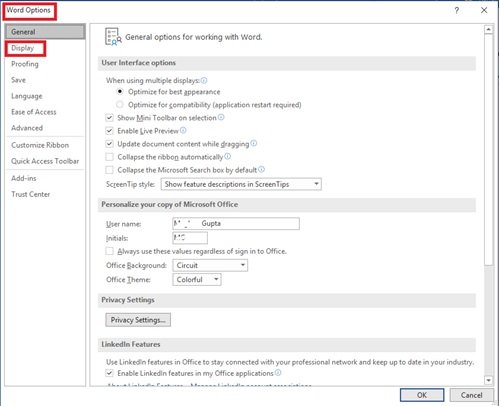 4] In 'Display' options look for the section marked 'Always Show These Formatting Marks on the Screen'.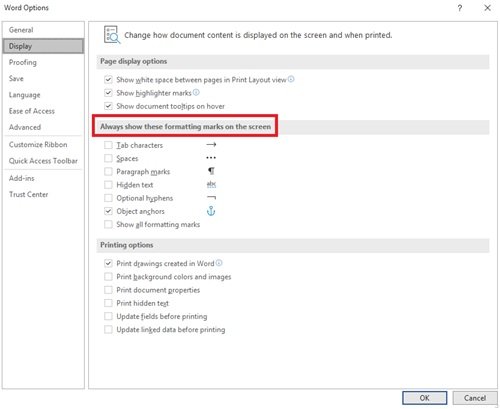 5] In the list, you will notice a checked box labeled 'paragraph marks', check the box if you want to activate paragraph marks on your word document.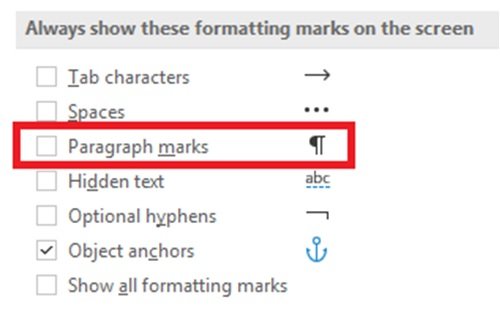 You can also uncheck any other formatting marks with this same method, like hidden text, tab characters, object anchors, and spaces.
6] Click the 'OK' button appearing below to save changes.
Once done, the paragraph mark will appear on any of your subsequent documents. To remove the paragraph marks, follow the same procedure, and uncheck the 'Paragraph marks' option in the 'Word Options dialog' box.
After checking the Paragraph marks option in the Word Options dialog box, the Home > ¶ Show/Hide button will not be able to hide paragraph marks.
While paragraph symbols can be a huge help in some cases, under normal circumstances they only make the text in the document look complicated and crowded. We hope this guide helps you deal with the paragraph symbol in Microsoft word in the best possible way.