Trusted Platform Module (TPM) provisioning service is a necessary one on Windows PC if you use BitLocker and other security features. It needs to work for them to be able to function better. Some Windows users are facing issues with the TPM. In this guide, we show you different ways to fix if the TPMProvisioningservice.exe stops working on your PC.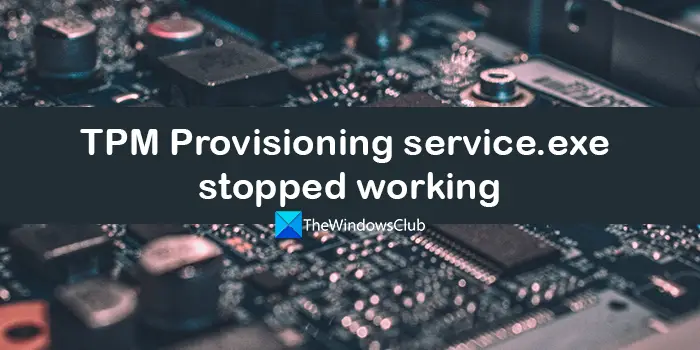 What is TPM Provisioning Service?
TPMProvisioningService.exe is an Intel process and it is located in the C:\Program Files\Intel\ folder.
The Trusted Platform Module (TPM) is a chip that is soldered to the system board of the computer. Its primary function is to generate secure cryptographic keys. Each TPM chip comes with a unique and secret RSA key that is embedded into it on production. TPMs have 2 modes, 1.2 and 2.0. TPM 2.0 comes with new functionalities such as additional algorithms, support for multiple trusted keys, and broader support for applications. TPM 2.0 requires you to set up BIOS to UEFI mode and also requires a 64-bit version of Windows.
TPM Provisioning service.exe stopped working
If the Trusted Platform Module (TPM) Provisioning service (TPMProvisioningService.exe) is not working on your PC, you can follow the below methods to fix it easily.
Manually start TPM Service
Run SFC and DISM Scans
Update Trusted Platform Module
Use Intel Drivers with Intel Driver & Support Assistant
Perform a System Restore
Let's get into the details of each method.
1] Manually start TPM Service
When you see the TPM Provisioning service not working, you need to manually start the TPM service.
To start the TPM service manually,
Press Win+R on your keyboard to open the Run command box
Type Services.msc to open Services
Find the TPM service in the list of services and right-click on it.
Select Properties and click on the Start button and also set the Startup type to Automatic. Then, click Apply and Ok to save the changes.
2] Run SFC and DISM Scans
If the System files are corrupted, you can also face this issue. You need to run a System File Checker (SFC) scan to find such issues and fix them automatically. Similarly, if there are any issues with the registry or system image, you need to run Deployment Image Servicing and Management (DISM) scan to fix the issues.
3] Update Trusted Platform Module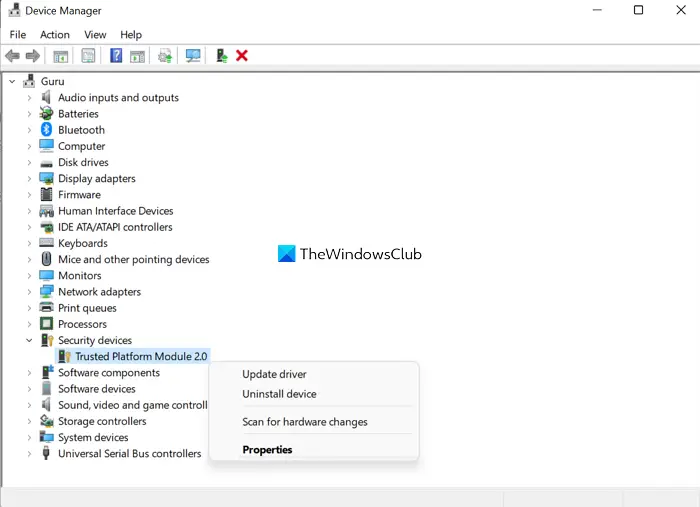 The TPM on your device might be outdated or corrupted. You need to update it to the latest version to fix the issue. You can do it in the Device Manager.
To update the Trusted Platform Module,
Click on the Start menu and type Device Manager
Open it from the search results and expand the Security devices
You will find Trusted Platform Module 2.0 or something similar there. Right-click on it and click on Update. Then, follow the on-screen wizard to complete the update.
After the process is complete, restart your PC and see if the error is resolved.
4] Use Intel Drivers with Intel Driver & Support Assistant
You can also use Intel Drivers with Intel Driver & Support Assistant to update your computer's firmware, Intel drivers and drivers.
5] Perform a System Restore
If none of the above solutions help you fix the issue, you need to perform a System Restore to take your PC back to the point where it is working perfectly without any issue.
Press Windows key + R. to open the Run dialog.
In the Run dialog box, type rstrui and hit Enter to launch the System Restore Wizard.
Click Next on the System Restore windows to move forward
At the next screen, check the box associated with Show more restore points.
Now, select a restore point prior to when you noticed the issue on your device.
Click Next to advance to the next menu.
Click Finish and confirm at the final prompt.
This will restore your PC to a good condition where everything was okay.
How do I fix TPM error?
You can fix the TPM errors by restarting TPM, updating TPM, or fixing the file or image corruptions with SFC and DISM scans. TPM error can cause a lot of distress if you use BitLocker to encrypt your device drives.
What happens if I disable TPM?
Nothing major noticeable happens if you disable TPM. If you use BitLocker to encrypt your drives, then disabling TPM requires additional keys to unlock. You need to disable BitLocker before disabling TPM to as not to face any issues.
Related read: TPM missing or not showing in BIOS.