Google and Bing are the most popular search engines on the internet. They are very accurate and powerful, but then nothing is free. Just like any other website, search engines keep a tab on you. Whatever you search, you visit, what you look on the internet is tracked. This information becomes a data mine for advertisers if you don't like that, in this post we are sharing some of the top privacy-respecting search engines.
Best Private Search Engines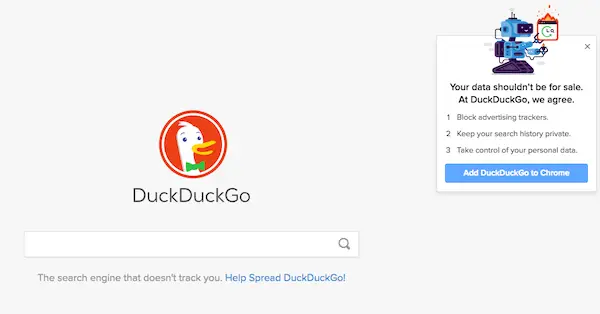 Everyone wants to maintain their privacy. Nobody likes getting followed. It is where we need search engines that can support that privacy. These search engines grew from being an experiment, and now they are becoming part of something important because of what they can do.
To those who still wonder if Privacy should be of concern? Then you can imagine if companies know about what you do on a day-to-day basis, they can predict what you might do, and influence your decision. That's why so many people use a VPN. These VPNs make sure what you do on the internet doesn't even stay with them.
Just before we start, do understand one thing. These search engines may or may not give you the results you have been used to in Google.
DuckDuckGo.com
Startpage.com
Qwant.com
Swisscows.ch
searX.me
Peekier.com
MetaGer.de
SearchEncrypt.com
Gibiru.com.
1] DuckDuckGo.com
Not only it doesn't track, but it even also maintains privacy. Browsers are known to follow you even when you use them in private browsing mode. Apart from these, you can do a lot more using DuckDuckGo which is not possible using other search engines.
2] Startpage.com
It is one of the oldest Privacy based search engines which doesn't harvest personal data. One of the most significant advantages is that they show the same search results as Google. The team behind Startpage pays Google to use their API, but make sure to remove all trackers and logs.
When you click on the search result, you leave StartPage. It makes sure that websites do not get any data, track you.  They call it the "Anonymous View" feature.  You'll find the element next to every search result.
TIP: Take a look at some of these Google search engine alternatives.
3] Qwant.com
It's a European search engine that doesn't use any cookie and search history.  While they do make money through advertisements, they do not track based on your search queries. It includes No third-party cookies, trackers, behavioral targeting, or campaigns mixing legit and promotional content (native advertising). They also have Qwant Junior which is for kids. They make sure to keep any adult content off the search results.
4] Swisscows.ch
Based out of Switzerland, Swisscows have their server and data centers. These computers are geographically outside of the EU and the US. It makes sure none of these countries can access their servers under any law. While they do not store any data from the visitors, they do save the number of search requests daily. It helps them measure overall traffic to evaluate a breakdown of this traffic by language and mere overall statistics.
5] searX.me
It's an open-source search engine that respects privacy. Technically it uses  POST requests on every browser which makes sure nothing is logged. If you are a bit into tech, and programming, you can create your custom engine module.
6] Peekier.com
Just like its name, the website renders an image of the site you wish to visit. It gives you the freedom to read or view what's on the website without visiting them. While it doesn't use any cookies, it uses HTML5 local storage to store your settings such as layout, region or safe search.
Read: Best Privacy browsers for Windows PC.
7] MetaGer.de
It's another open-source search engine. It uses the Tor network to make sure search results are anonymous. These results are taken from a variety of search engines. They have positioned their servers in Germany where laws protect even the anonymous data recorded. The search engine use advertisements in the results to cover the cost.
8] SearchEncrypt.com
The team uses a different way to keep your privacy safe. Whenever you make a request, it goes through encryption and is then sent to their servers. The query then goes through the decryption process on their servers. Based on your query, the results are aggregated, encrypted, and sent back to you. The whole process makes sure that you are nowhere in the picture. Your local browsing history for any search expires after 30 minutes of inactivity. The company uses sponsored ads on the search results page. It helps them to cover the cost of their servers; These advertisements do not track you.
9] Gibiru.com
Gibiru is a private search engine that offers anonymous and uncensored search engine technology. It is the only "anonymous search engine" available that includes an "Uncensored" optional feature. Gibiru provides a VPN service as well as uncensored search results.
These privacy-respecting search engines are excellent alternatives for those who cannot or do not want to pay for VPN servers. They not only make sure that your queries do not get into the hands of anybody, but some of them also offer the same search experience as Google. While some of them do show advertisements, but they are native ads displayed without any relevance to the search query.
Do you use any of these? What is your recommendation?