If the Timeline feature is not working in Windows 10, then this post will show you how to enable Timeline and get it working. Via Settings, you can also disable or turn off the Timeline feature & the Activity History feature if you do not use them.
Timeline feature not working in Windows 10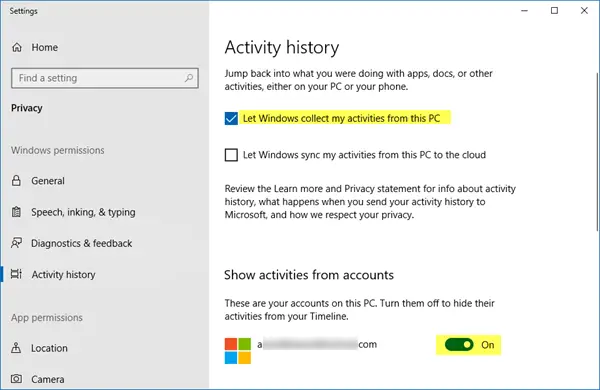 From the WinX Menu, open Settings and move to the Privacy section.
There under Windows permissions > Activity history, you will see on the right side a setting – Let Windows collect my activities from the PC. Select this setting.
Under Show activities from accounts, ensure that your Microsoft Account is selected and the toggle is set to the On position.
If you wish to sync your activities across devices, select the Let Windows sync my activities from this PC to the cloud option.
Restart your computer and see.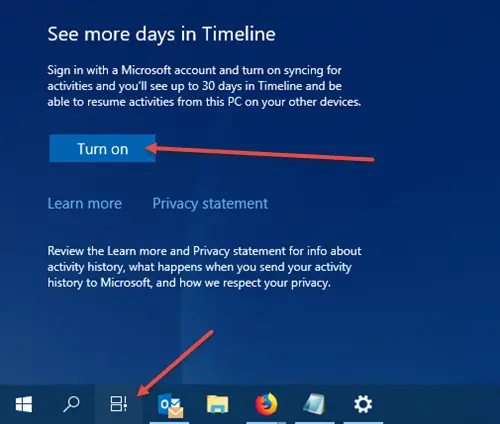 You will see the Timeline icon on your Taskbar, and it should be working fine. If you still don't see the icon, right-click on the taskbar and select Show Task View button.
To see More days in your Timeline, sign in with your Microsoft Account,press on the Timeline button, scroll down a bit and and click on Turn on.
If this does not help, create a system restore point first and then open Registry Editor, navigate to the following path-
HKEY_LOCAL_MACHINE\SOFTWARE\Policies\Microsoft\Windows\System
and ensure that the value of the following DWORD (32 bit) values are set to 1:
EnableActivityFeed
PublishUserActivities
UploadUserActivities.
If you do not see these DWORD values, create them and give them values of 1 each.
To create them you have to right-click in the right side panel, New > DWORD (32-bit) Value. Give it the mentioned name, double-click on it and change it value to 1 as mentioned.
You may need to be logged in with your Microsoft account.
I hope this helps!