If you need a one-stop solution to customize, set up, and manage various settings on Windows 11, ThisIsWin11 lets you do that. Here is how you can use ThisIsWin11 to get your customization done on a Windows 11 computer.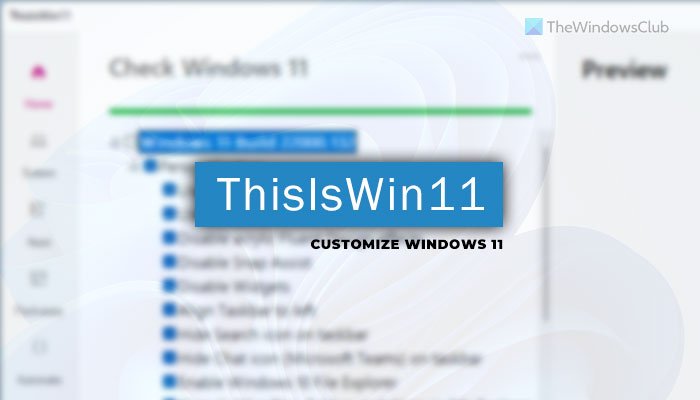 At times, you might want to change numerous settings on multiple newly installed Windows computers. Instead of going through the same steps on each computer, you can use ThisIsWin11 app to make that happen within moments. It comes with tons of options that let you change settings, install/uninstall apps, etc., at once. Whether you want to use the dark theme on apps or disable Snap Assist, you can do everything in seconds.
ThisIsWin11 Features and options
Some of the essential options of ThisIsWin11 are:
Use Apps/Window dark theme
Enable/disable Snap Assist
Align Taskbar to left
Hide Search icon on the taskbar
Show/Hide hidden files, folders, and drives in File Explorer
Remove XPS Document Writer
Remove Microsoft Teams on Startup
Disable Game DVR feature
Disable Diagnostic data
Disable Compatibility Telemetry
Disable Advertising ID for Relevant Ads
Disable Suggested Content in Settings app
Disable Windows Hello Biometrics
Disable App notifications
Disable App access to microphone/call/notifications, etc.
There are more others that you can find in ThisIsWin11. The best thing about this app is that you can find different sections in a tree-view to manage various settings as per your requirements. For example, it comes with Personalization, System, Gaming, etc., categories that you can expand and manage the corresponding settings.
Following that, it lets you remove pre-installed apps from your computer. Not only that, but also you can re-install them whenever needed. On the other hand, you can load various app packages. Let's assume that you need a few apps on ten computers on your network. Instead of visiting the official websites on each computer to download the packages, you can use the Packages section of this app to download and install those apps quickly. You might not find all the apps you need, but it comes with most standard apps such as 7zip, Google Chrome, Firefox, etc.
How to set up and customize Windows 11 using ThisIsWin11
To set up and customize Windows 11 using ThisIsWin11, follow these steps:
Download the app from GitHub.
Extract the package and double-click on ThisIsWin11.exe.
Click on the System tab.
Tick all the options that you want to enable or disable.
Click the Fix issues button.
To learn more about these steps, continue reading.
To get started, you need to download the app from GitHub. After that, extract the compressed file, open it, and double-click on the ThisIsWin11.exe file.
Next, switch to the System tab on the left-hand side. Here you can find all the options that you can change using this app. If you can't see anything, click on the plus sign visible before the Windows 11 version to expand all the sections and options.
Following that, you need to tick all the checkboxes that you want to enable. Depending upon the given option, you can disable a setting as well. Once the selection is made, click the Fix issues button.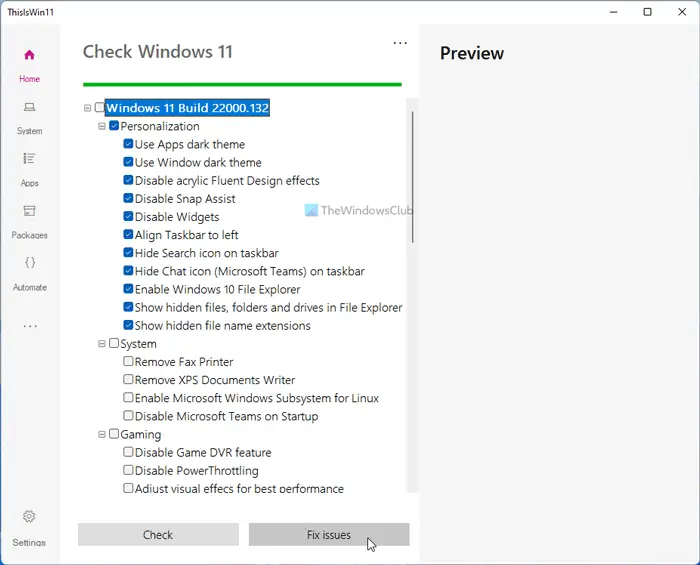 After that, you can find the changes almost immediately.
The next tab is Apps, which helps you remove pre-installed apps from Windows 11. Here it is called Recycle Bin. To remove an app, you need to select and move it to the Recycle Bin. For that, select an app package you want to remove and click the Add selected button.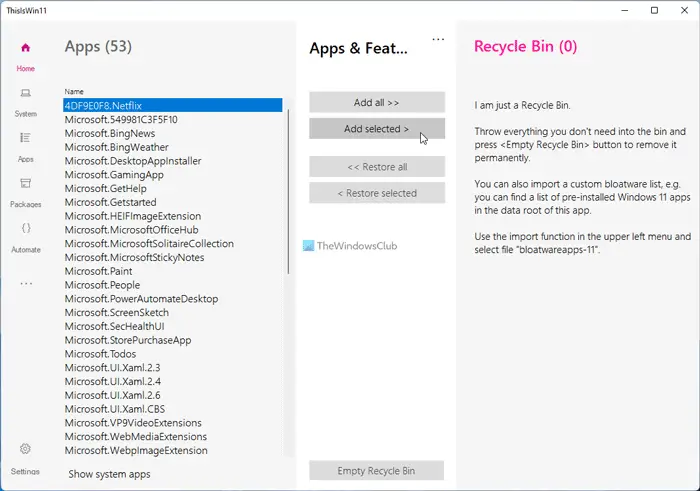 If you want to remove all the apps mentioned on the list, click on the Add all button.
After adding the app to the Recycle Bin, you can restore them from there. For that, select the app on your right side, and click on the Restore selected button.
The third tab is called Packages, which lets you install some common apps, as mentioned earlier. To use this facility, you must tick all the checkboxes to select apps and click on the Create Installed button first. After that, click the Run Installer button to start the installation.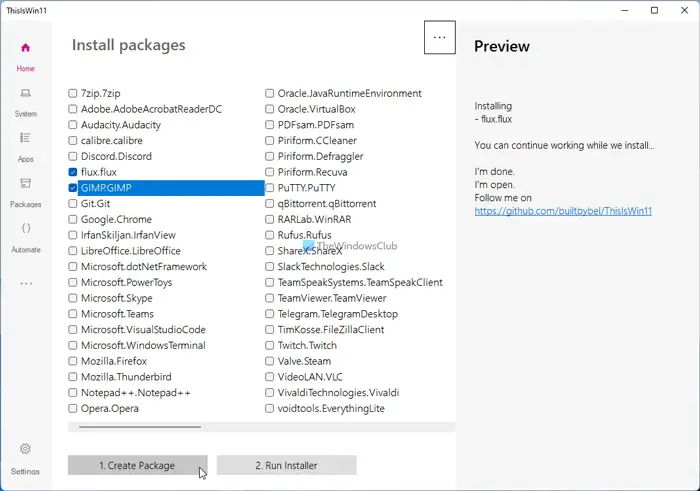 The best thing is that you can export the app package to execute the same command on multiple computers. To export a list of app packages, you need to select the apps, click the Create Package button, click on the three-dotted icon, and select the Export to PowerShell option.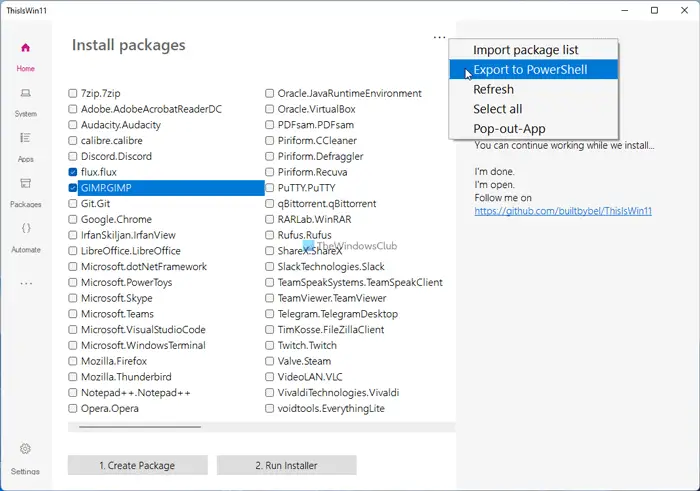 The last but not the least tab is called Automate. As the name defines, it helps you execute commands in automation. For example, you can install apps, remove apps, reinstall all built-in apps, etc.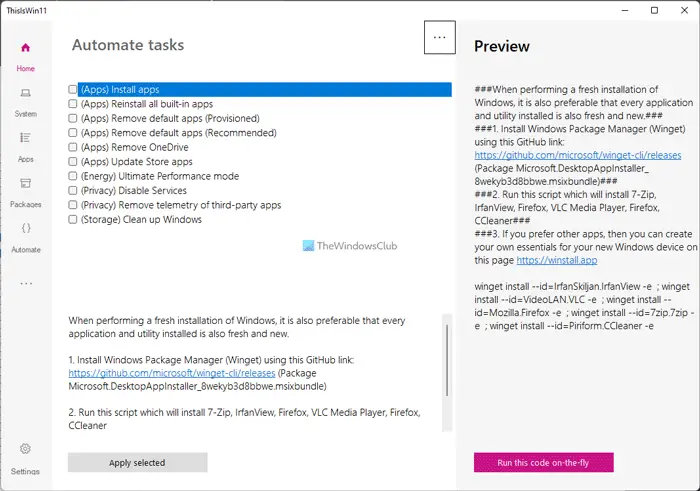 There is another option, which allows you to add additional commands using Windows PowerShell ISE. For that, you need to click on the three-dotted icon and select the Edit option. Then, you can make all the changes you want.
If you like, you can download ThisIsWin11 from github.com.
How to customize Windows 11?
Although there are multiple ways to customize Windows 11, the Windows Settings panel or ThisIsWin11 are two of the best options you have in hand. With the help of these two options, you can enable dark mode, disable Snap Assist, and more.