If you see This version of Office has been deprovisioned message, then it means that your Office your licenses and credentials have been canceled and you no longer have the access on any of your data. Usually, the deprovisioning is done by the companies when some employee leaves the job so that he/she has no access to the companies' confidential data. However, this error might also occur due to some other technical reasons.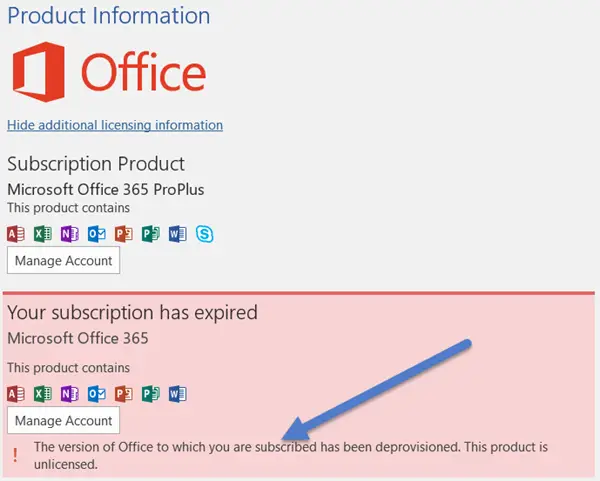 This version of Office has been deprovisioned
First, you need to check with your administrator if he has done it for some reasons. If he has not, then maybe the following methods may help you resolve this problem on Windows 10:
Use the correct email ID
Check Subscription
Check the Date and Time Settings
Check if there are older versions of MS Office in your PC
Run Office Activation Troubleshooters
Try running MS Office as Administrator
Repair Office Licence
Repair your Office Apps.
1] Correct email ID
This is a very common mistake we often do. Before you proceed with other troubleshooting methods, do check that you are using the correct email ID to login to your MS Office account. Do try using all your other personal email addresses if the current one is not working. It is possible that you might have used some old email address to buy your MS Office license.
To check this, login to your MS account and go to the Services and Subscriptions. If your Office 365 subscription is not listed, then definitely you are using a wrong email address.
2] Subscription Expired
This is one of the most obvious reasons for getting this error. So, if you are getting this error, do check your subscription status first and renew it if it is expired. Make sure it is active to continue using Office.
Renewing the Office Subscription is quite easy and quick. Before you go to the renew page on Office.com, do check if it is expired or not, just sign in to your Office account and go to the Subscriptions section and check the details.
3] Incorrect Date and Time Settings
We might not even think about it but yes, the incorrect date and time settings can also be the reason for this error. If you are getting this error, so check the date and time settings on your PC.
Close all your Office Apps and then check your settings. If they are incorrect, correct them manually, or you can choose the option of 'Set Time Automatically'.
Restart Office and check if the issue is resolved.
For Windows 7 users, it is recommended to sync your PC clock with the internet time server to avoid such errors.
4] Older versions of Office
You might not know but some older version of Office might still be installed on your PC and might be conflicting with the latest version.
Press Win+R to open the Run command and type 'Control Panel'.
Now check the list of programs installed on your PC and see if there are multiple copies of MS Office installed.
Uninstall the versions you are not using.
If there is only one version listed in the programs list, check for other fixes mentioned below.
5] Run Office Activation Troubleshooters
These Microsoft Office Activation Troubleshooters will help you resolve license issues. It works for Office 365, Office 2019, Office 2106 and Office 2013.
6] Run MS Office as administrator
Running your Office apps as administrator might help you fix the solution.
Open the search box and type 'Word'.
The Word application will appear on the top of the list.
Right-click and select 'Run as Administrator'.
Select Yes to let Office run as administrator.
Open your Office apps and see if the issue is resolved.
7] Repair Office licensing
This fix is only for Office 2013. If you are using Office 2013 and getting the error, "This version of Office has been deprovisioned", try repairing your Office license. To do so, you first need to uninstall your product key and then sign in to your MS Office account.
There is an official and automated fix available for uninstalling the product key in Office 2013.
Download the tool and open it. Once you are done with the easy fix, try opening any of your Office application and see if it helps.
8] Repair your Office Apps
It is possible that your MS Office installation needs some repair. To repair your Office Apps–
Press Win+R to open the Run command and type 'Control Panel'.
Go to Program and open the list of all installed applications on your PC.
Go to Microsoft Office and click on 'Change'.
Now select Repair on the dialog box and go for the Online repair.
This should fix your issue.
Do let us know if it helps. Also, let us know if you have some other fixes for this error.
Related read: How to troubleshoot Office Activation problems.