The error message has been part of multiple scenarios, and there is no one fixed solution. While it was reported in the forums, no concrete scenario was explained— Does anyone have any experience fixing the error message "The stub received bad data" on Windows 10?
The stub received bad data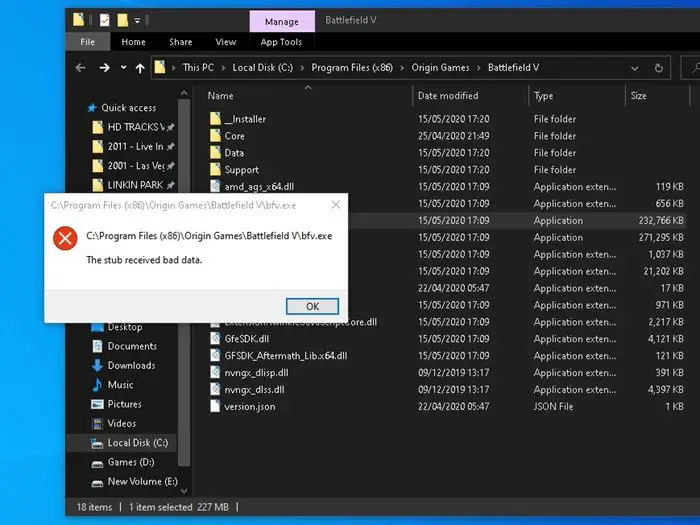 These are some of the scenarios where users have encountered the error message followed by the solution.
Error 1783: The stub received bad data
Stub received bad data error and Mail and Windows Store issues.
Restart Application
General Solutions to resolve the problem
You will need admin permission to execute the steps.
1] Error 1783: The stub received bad data
The error occurs when you open Services.msc. The same can happen when it is accessed on a remote computer, and you can only start and stop using the sc start and sc stop commands. According to Microsoft Documents, it happens when the number of services installed has exceeded the size limit of the Services.msc buffer.
The only way to resolve the problem is by uninstalling unnecessary software from Windows. However, be careful when removing them as it may have unintended side-effects
2] Stub received bad data error and Mail and Windows Store issues
Some users have reported that the error occurs when they open the Task Manager and sometimes other apps. The next time it is opened, it works fine. It also reported causing issues with Mail sync, Store not updating data, and so on.
All this is happening because of the Nvidia Driver update causing the issue everywhere. While for Mail and Store, we suggest running the Windows Store troubleshooter, but it is recommended to roll back to a previous version and check if it resolves the problem.
3] Restart Application
If you get the error while launching a game or EXE based application, then reinstall the game again.  If that doesn't fix the issue, it could be that the app is supposed to start with some options.  It would be best to recreate the shortcut from the original application and check the software support.
3] General Solution
You can also boot your computer in Clean Boot State and see. If the problem does not appear, then try to identify the offender and disable it.
Further, you can run SFC /scannow and DISM.exe /Online /Cleanup-image /Restorehealth and see if it helps.
I hope the post helped resolve the stub received a bad data error message in Windows 10. If you have any other ideas, please do share them here.