When starting an application or software, if you receive an error— There was a problem starting this file, The specified procedure could not be found, then in this post, we will share a general fix for this kind of error. It commonly appears for Office programs like Outlook – but can appear for other software as we.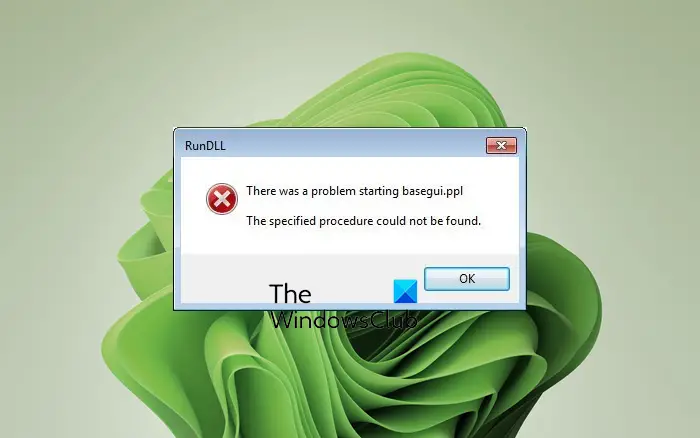 Why does it say The specified procedure could not be found?
When you receive this error, it is usually accompanied by a message which may say, "There was a problem starting basegui.ppl." The name of the application will vary depending on which application was the root cause of the error. There is another similar error related to this, which may say — The specified module could not be found.
Here is another piece of information you should learn about the error. When it says a specified procedure or module is missing, it is missing a file in the program, which includes the procedure, and it is probably a DLL file. This DLL file can be a System DLL file or only specific to the application.
Fix The specified procedure could not be found error
Now that you know the problem let's take a look at the possible solutions.
Reinstall the mentioned application
Run System File Checker
System Restore.
1] Reinstall the mentioned application
It is possible that one of the files is missing or is corrupted. In this case, you should reinstall the app. Many software application offers a Repair operation. If you have it, it should be available in the Uninstall Program list of programs and features. If there is no such option, you can choose to uninstall the application first, followed by reinstallation.
Both of them will replace the corrupt file with a new copy, and the procedure, when called, will be available.
2] Run System File Checker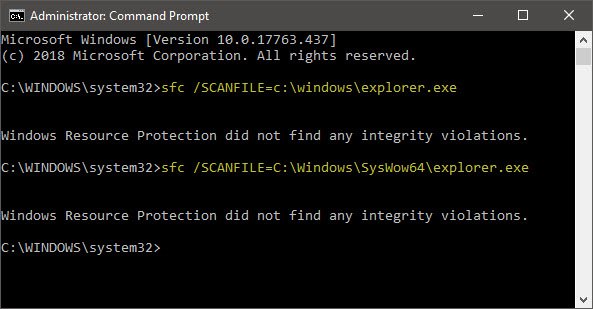 You may have to make a smart guess, but running SFC doesn't do any harm.  If the missing name of the application sounds like a System File or DLL, then it would be best to use SFC.
You need to run "sfc /scannow" on an elevated Command Prompt. It will scan the Windows installation for any corrupt system file, and replace it with a fresh copy.
If there is an application mentioned in the error which is part of Windows, e.g. explorer, then you can also run SFC for that single application.
3] System Restore
If the problem started occurring recently, and the problem wasn't there a day ago, then we would suggest you restore Windows 10 to the day where everything was working fine. Follow our detailed guide to learn about system restore and how to use it.
Lastly, this error is not related to any Virus activity or registry changes. Its a simple function call from an application, and it failed. So do not panic if someone suggests you to run the antivirus. The best way to sort this out is to reinstall the application in question, and it will be fixed.
Why does Windows 11 keep failing to install?
There could be several reasons why Windows 11 fails to install on your PC. From the TPM and Secure Boot requirements to insufficient storage and RAM, anything could be held responsible for this issue. That is why you should check the official system requirements for Windows 11 before trying to install this OS.
Related:
I hope the solutions were easy to follow, and you were able to fix the problem.