After upgrading the PC to Windows 10 from an earlier version, when users attempted to activate their Windows 10 PC with the volume license key, it failed and shown a strange error message, "We couldn't activate Windows. Try activating Windows again or contact Microsoft support and reference the error code. You can go to Settings for more information".
Along with this message, there was an additional error 0xC004F014.
However, some users went to the store, bought another license key, and again tried to activate the Windows 10, but it failed and still showing the same error code. With this issue, you could see another error message saying –
0xC004F014, The Software Licensing Service reported that the product key is not available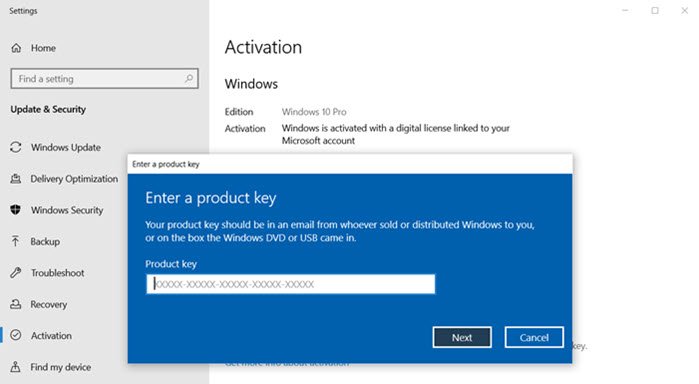 The Software Licensing Service reported that the product key is not available
To fix Windows 10 Activation Error 0xc004f014, follow the below suggestions:
Use a MAK or KMS key
Run Windows Activation Troubleshooter
Activate Windows by Phone
Change Windows Product Key
Let us see them in details:
1]  Use a MAK or KMS key
Since this is an Enterprise Volume Licensing Error, you need to install a MAK product key or install a KMS Setup key found in \sources\pid.txt on the installation media.
You can also get in touch with your IT admin to ask for a product key or he can activate that computer for you.
2] Run Windows Activation Troubleshooter
Since this problem occurs when you try to activate Windows 10 with a volume license key, so you try running the Windows Activation Troubleshooter and check if it works. Once it is done, restart your computer and check if Activation error 0xc004f014 is solved.
Note: This method can only be applied if the troubleshooter has a resolution for you.
3] Activate Windows by Phone
Next, you can try to activate Windows 10 by phone. Here is how to do:
Click on the Start button, type 'Slui 4', and then select the top of the result.
Choose your country from the list and hit Next. Then select the Phone Activation option.
On the next screen, keep the window open and then call the toll-free number provided for your country.
Explain your problem clearly to the support person.
At this time, you will get a confirmation ID, note down it.
Then type the confirmation ID in the box and click on the Activate button to fix all the issues regarding your Windows OS.
Once you complete, reboot your computer and check for the error 0xc004f014.
Hope something helps you.