If you have encountered the error message "The driver detected an internal driver error on \Device\VBoxNetLwf" with Event ID 12, then you're in the right place. In this post, we will provide the most suitable solutions you can try to successfully resolve this issue.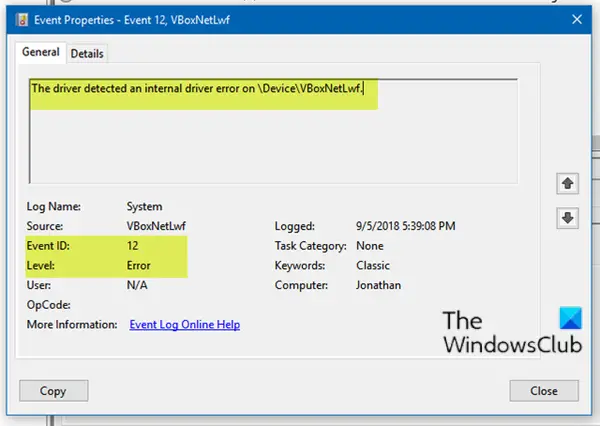 Event ID 12, The driver detected an internal driver error on \Device\VBoxNetLwf
Event ID 12 can occur if the platform firmware has corrupted memory across the previous system power transition. If you're faced with this issue, you can try our recommended solutions below in no particular order and see if that helps to resolve the issue.
1] Run SFC scan
Running an SFC scan is normally recommended when you're having system file issues like this driver issue that is triggering the error.

2] Update VirtualBox
vboxnetlwf.sys is part of Oracle VM VirtualBox and developed by Oracle Corporation. vboxnetlwf.sys's description is VirtualBox NDIS 6.0 Lightweight Filter Driver and is is digitally signed by Oracle Corporation. The file is usually located in the C:\WINDOWS\system32\drivers\ folder.
This solution requires you to download the latest version of VirtualBox on your Windows 10 computer. Just download a new installer for VirtualBox then run it to update VirtualBox.
3] Delete the .Virtualbox folder
Delete the .Virtualbox folder from your profile folder and see if that helps in any way.
4] Disable hardware virtualization
Disable hardware virtualization and see if that helps – here's how:
Navigate to Security > System Security > Virtualization Technology and disable it.

Press F10 to accept and expand the File menu

Select Save Changes and Exit.
Since different motherboards use the different BIOS configurations, if this is not applicable to you, follow the motherboard guide for your PC to disable hardware-assisted virtualization (HAV) in BIOS.
Hope this helps!