If when you run the built-in Disk Checker Utility on your Windows computer, ChkDsk throws up an error message while looking for bad clusters – A disk read error occurred, The disk does not have enough space to replace bad clusters, then this post may help you. This message indicates that your drive has bad sectors and there are no free non-bad sectors available to redirect the bad sector to. Having multiple bad sectors could mean that your hard disk may be in trouble and could potentially crash at any time.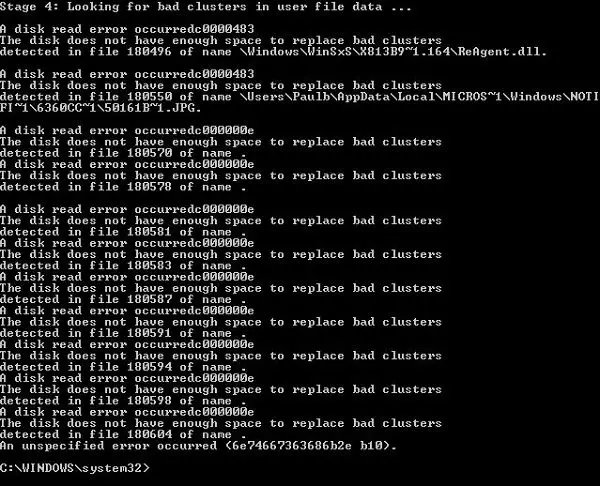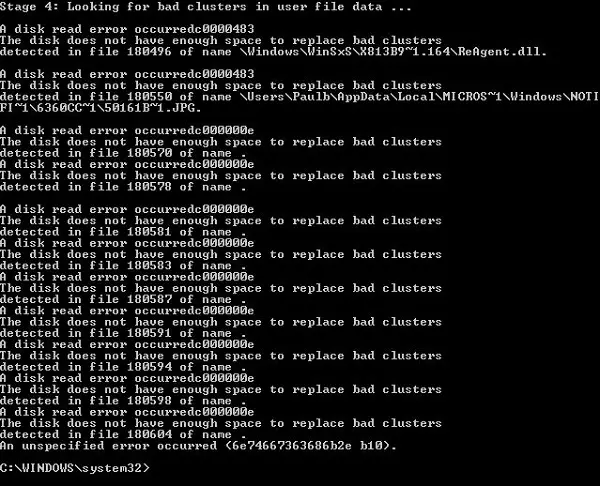 A disk read error occurred, The disk does not have enough space to replace bad clusters
The disk does not have enough space to replace bad clusters
This message typically appears when you run chkdsk /f /r. If you see this message, if might be a good idea to back up your data to an external hard disk right away, as your hard disk could be failing. In this case, maybe you need to give the process some more time to complete. If need be run chkdsk /f /r once again.
If this does not help, you could make use of a freeware called Victoria to fix the bad clusters. It is a powerful HDD information and diagnostic utility.
Victoria is a free powerful tool to monitor and fix any issues with a hard drive. Once you have downloaded it, extract its contents and then run vcr447.exe as administrator.
When the tool opens, make sure that you are on the Standard tab. On the top right side panel, select the Drive which is causing issues, and then navigate to the SMART tab.

Under the list and scores updated, look up for the score for Reallocated sector count. If the Tresh is more than 10, you may have some issues with your hard drive. If your drive reports a Raw value of more than 1, or a value of 196, or 199, you have a failing drive. 197 &  198 are Windows-generated errors. If the Health indicator shows 5 green dots, you should be happy!
Under the section of S.M.A.R.T. MONITOR on the top right corner, check the status of the health of your hard drive. If it says, Good, you are good to go. SMART, however, does not work with USB Storage devices.
If you find any issues in the SMART section, navigate to the Tests tab and hit the Scan/Start button. The scan will commence, and it will mark the clusters on your hard drive concerning how much time it takes it to read the cluster. All the warnings and errors will be found in the log on the bottom part of the window.
You can also adjust the Start LBA and END LBA, to narrow it down to a particular range of clusters.
If any bad clusters are found, select the Remap radio button and once the scanning is done, perform the CHKDSK operation again and if you are still encountering the error, select Refresh and scan again. It will fix any of the remaining levels.
You can download the latest version of Victoria from here. You need to know that Victoria HDD application is no longer supported and is not being updated.
If this does not help at all, then you need to seriously think of replacing your Hard Disk.