Before understanding Bad Sectors and how to repair bad sectors, you should know about sectors and what they do. This post explains sectors, bad sectors, and tells you how to repair bad sectors. All magnetic storage devices have sectors. This is where data is stored locally when using computers. An example is the HDD.
Sectors on Hard Disks and SSD
Your Hard Disk Drive (HDD) contains more than one magnetized disk to store data. These magnetized disks are known as platters. A platter can contain data on one side or on both sides – depending upon the make of HDD you are using. Accordingly, it contains a number of Read/Write heads that can be equal to the number of disks (single-sided) or double the number of disks in case the disks are used on both sides.
Each magnetized disk is divided into tracks and sectors. Tracks are invisible concentric circles with regularly varying diameters, marked on each disk. The sector is the smallest size of data that can be read or written, at a time, by a computer. When data is written into files, they (files) are spread across many sectors – called a cluster. Each cluster has its own ID so that the read/write heads can fetch or store data. The file may or may not be stored in a single track; it could be divided over different tracks and different clusters (as in defragmented files).
A sector on a Hard Disk Drive can hold 512 bytes of data. Some advanced HDD can hold 4K bits of data in a sector.
What are Bad Sectors on a Hard Disk?
A bad sector is a sector that cannot be accessed by the computer, being destroyed either by some software or by physical accidents. If you drop an HDD from 2 meters, the chances are that some of the sectors may become unusable.  HDDs are fragile as compared to SSDs. SSD is most resistant to potential shocks. Here is more information on HDD vs SSD.
Data stored in sectors cannot be accessed in case of bad sectors on HDD. The SSDs (solid-state drives) also have sectors but they are called blocks. The SSDs don't have rotating disks that are magnetized and demagnetized for data read/write operations by the operating system. But in this case, too, there are possibilities of sector damage.
Usually, sector damage indicates a failing HDD and may be a cause for concern. In SSDs, there is no need to panic even if there are some bad sectors because they don't mean a failing SSD. But keep backing up the disks in either case, to be on the safe side.
Read: Bad sectors were encountered during the format
Repair Bad Sectors on Hard Drives
There are two types of damage done to sectors: Physical and Logical. The physical damages cannot be repaired while the soft logical damages can be repaired using the inbuilt command CHKDSK Windows Disk Error Checking Tool, or a third party disk error checking software.
Using command-line CHKDSK for Bad Sectors
The easiest method to discover and repair bad sectors is to use the DOS (Disk Operating System) command-line CHKDSK.
Press Windows Key along with R.
The Run command dialog box will appear
Type CMD in the Run command dialog box and hit Enter/Return key
In the black window of Command Prompt, type CHKDSK /F C: and press Enter
The command will scan your C Drive.
If you want to check another disk, use that drive alphabet like D: or G:
/F indicates that the command has to find and repair errors on the storage disks it scans
It may happen that the computer will not start scanning for errors as soon as you issue the CHKDSK command. It may ask you to restart the computer so that the command has exclusive access to the root (Normally C Drive) of your computer's storage devices.
Read: How to Migrate Windows from HDD to SSD free.
Using Windows Disk Error Checking Tool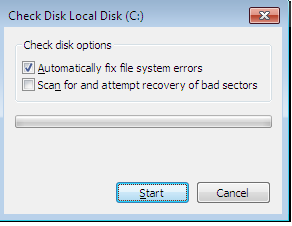 Open File Explorer and right-click on the drive that you want to check and repair.
From the context menu that appears, select the option labeled Properties.
In the dialog box that appears after clicking on Properties, click on the tab saying Tools.
You will see an option to run Error Checking tool. Click on Check Now
In the dialog box that appears, select both options > Automatically fix file system errors and the Scan for and attempt recovery of bad sectors
The Error Checker Tool too may ask you to reboot so that it can gain access to the root drive before starting the scan.
Read: Windows is stuck on Repairing disk errors, This might take an hour to complete
Using third party software to repair bad sectors and recover data
There are several third-party disk error checking software that claim to repair bad sectors and retrieve data from them. Such software may be free or paid. EaseUS Data Recovery Wizard is a good free option if you ask me for a recommendation.
Related: How to protect Solid State Drive and extend SSD life.