While there are dozens of data recovery tools that can help you recover data, most of them can only recover deleted files. These free software may prove to be of little use when recovering data due to partition loss or system crashes. Fortunately, EaseUS Data Recovery Wizard Free will let you recover all sorts of lost or deleted files & data from your Windows PC.
EaseUs Data Recovery Wizard Free
EaseUs Data Recovery Wizard Free makes the task of recovering deleted data, a breeze. The interface of the program is quite user-friendly, and the recovered files are displayed in a typical Explorer format. EaseUS Data Recovery Wizard can typically recover files from:
An existing partition
Deleted data from a deleted partition
Deleted data from a corrupted partition
Deleted data from a partition that had been deleted, then overwritten with another.
The last two scenarios require a user to choose Complete Recovery which does the 'sector scanning'.
How to use EaseUS Data Recovery Wizard Free to recover data
As mentioned earlier, the tool is quite easy to use. When you download the program and install it, a wizard interface will walk you through the complete process of data recovery.
When you first launch EaseUS Data Recovery Wizard, you will notice the data loss location page. Here, kindly choose a location (Hard Disk Drives, Lost Hard Disk Drives or specify a location) to start finding the data. This becomes an essential step, when the data loss is caused by deleting a partition, losing a partition or re-partition. The EaseUS tool has been designed specifically to read the partition table and list all the deleted partition info under it.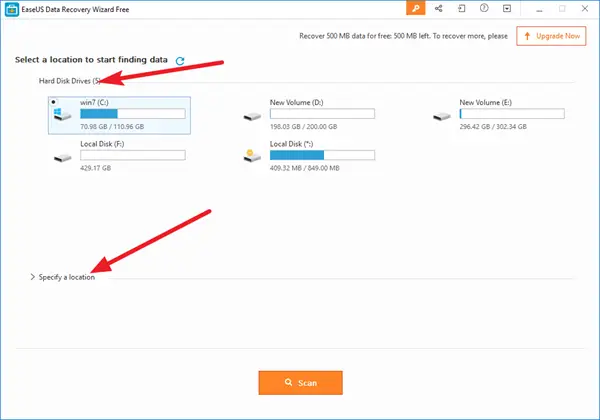 Once done, it's time to scan your computer or drive. In the upper corner of EaseUS Data Recovery Wizard Free screen, you can find a process bar displaying the status of the recovery. The process bar displays the estimated remaining time for the scan to be completed in percentage value.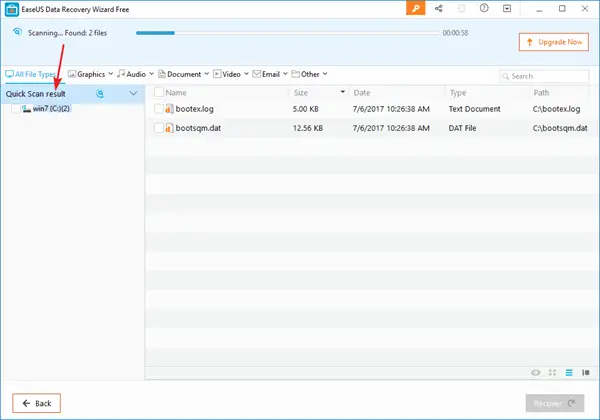 The scan is quick, and once it is completed, the tool will list all the files that were simply deleted or wiped out completely from the recycle bin. This program will automatically start a Deep Scan for a further recovery after you have successfully run the first scan and have its result with you.
Deep Scan is based on a new sector by sector scan, which can take unusually long. Please be patient and bear with the action. Do not interrupt the scan in the middle of the process if not necessary.
It is advisable to run Deep Scan under the following two situations:
1. You cannot find the files you need from the first scan.
2. The recovered files cannot be correctly opened.
By choosing to run Deep Scan, you'll make the program perform a new sector by sector scan, which can take unusually long.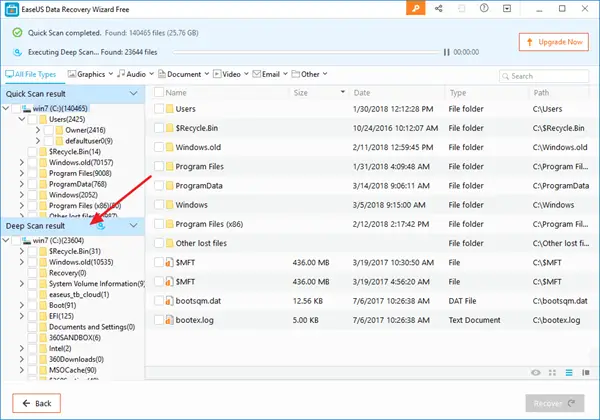 When done, preview and recover the files. You can quickly filter lost files through the options below.
Graphics
Audio
Document
Video
Email
Other.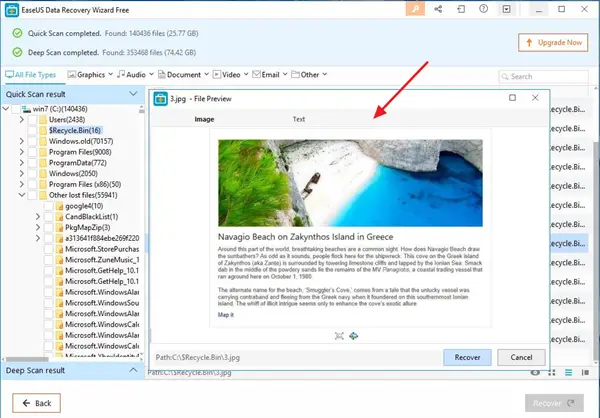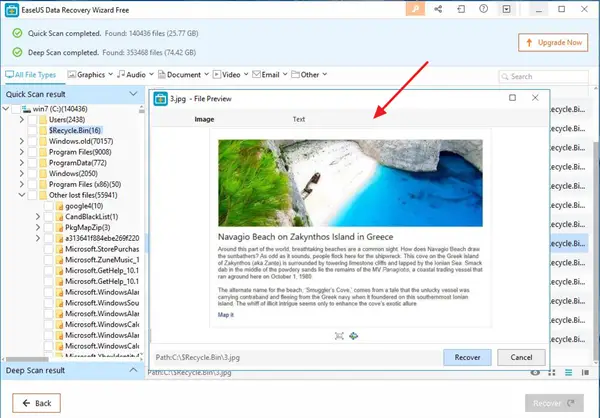 It also offers a Preview option to preview some specific file types in the program.
Once the operation of preview or search is completed, you can select the targeted files and press Recover button to recover and save them on your computer or storage device. At this point, make sure you save all the recovered files on another disk to avoid data overwriting.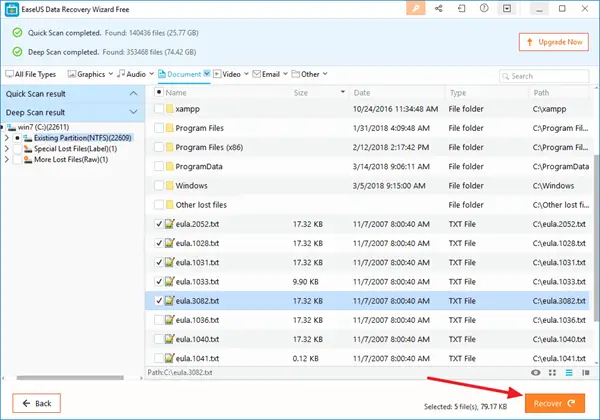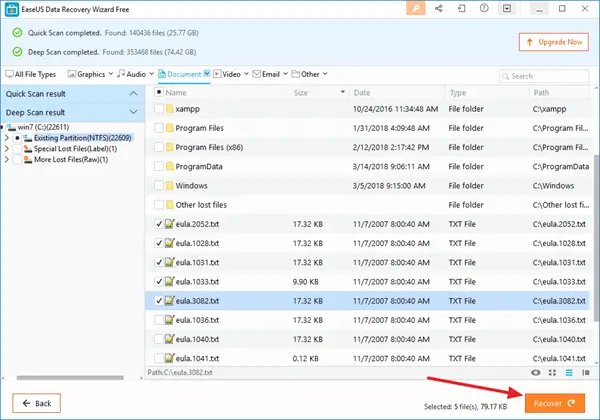 EaseUS Data Recovery Wizard Free is a useful tool to recover data from lost or deleted partitions or recover your files after partitioning or crashed hard drives. The free version can recover only up to 2GB data and works well with FAT12, FAT16, FAT32, NTFS/NTFS5 and EXT2/EXT3 file system.
You can download EaseUS Data Recovery Wizard Free from:
https://www.easeus.com/datarecoverywizard/free-data-recovery-software.htm.
You may want to also read our EaseUS Data Recovery Wizard Pro review.
If you are looking for more options, you can check out this list of other free Data Recovery software for Windows PC.