TeamViewer connects any PC or server around the world within a few seconds. The tool helps you get uninterrupted streaming and clear audio during meeting sessions and offer and give support. But on a few occasions, the sharing of computer audio on TeamViewer gets disabled for unknown reasons. Try these troubleshooting steps to fix the issue.
When you're providing tech support, it's essential to have clear audio and video capabilities. Video and audio are both essential elements for a remote desktop session, especially in cases where the first person is speaking directly to the second person seeking tech support.
TeamViewer audio not working
If you have TeamViewer installed on your Windows 11/10 system and would like to track and control the sound of a remote Desktop from a distance, open/launch TeamViewer.
Once you have Team Viewer opened before you, go to the main window and click on 'Extras' tab and choose the 'Options' from the expanded menu.
Next, scroll down to 'Remote Control Defaults' section visible under 'Options for Remote Control for Other Computers'.
Here, check the box marked against 'Play computer sounds and music' option.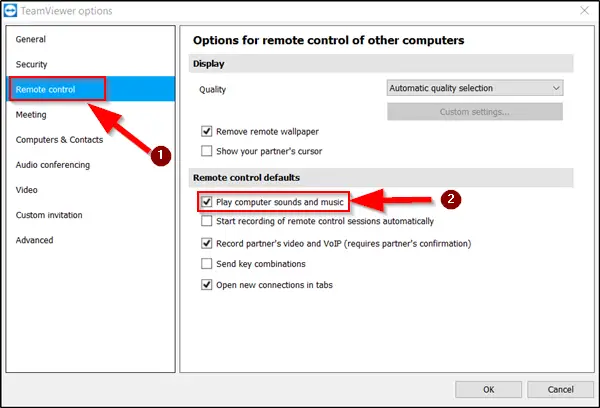 Also, repeat the same procedure on another computer since, for audio to function normally, it is essential that 'Remote control Defaults' are enabled on both computers.
Similarly, if you would like to enable sharing of computer sounds and music on TeamViewer to follow the first two steps as highlighted above and move to the Meeting section.
Click the 'Meeting' tab to display the 'Defaults' section in the right pane.
Scroll down to 'Meeting defaults' and check the option marked against 'Share computer sounds and music'.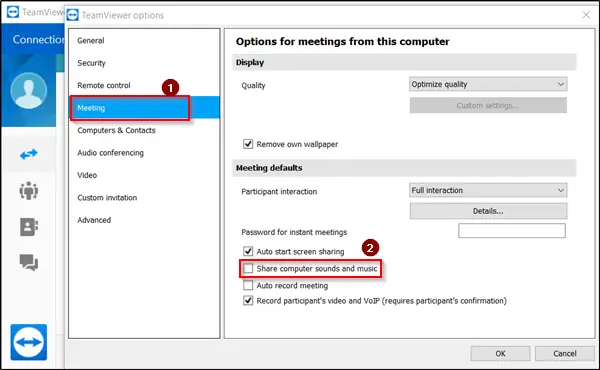 In the end, click OK to apply the settings.
TeamViewer remote access and remote conferencing sessions are supplemented with HD-quality voice-over IP calling solutions. Thus, with this tool at your disposal, you can easily transition from remote control presentations and video calls to a more flexible collaborating experience.