Microsoft 365 recently announced new features to track productivity. It was aimed at monitoring data about workers but the feature launch backfired after people were made aware of the amount of user data collected by Microsoft Teams.
What data does Microsoft Teams collect?
Microsoft Teams collects three types of data i.e. Census, Usage, and Error reporting data. The census data is nothing but standard information about your device, operating system, and user language. It also generates a specific user ID which, is protected twice to avoid unnecessary linkage. Census data in the Teams user activity report is default data collected and cannot be opted out of by the user.
Microsoft also collects usage data which includes the number of messages sent, calls and meetings joined along with the name of the organization. It also assists in tracking errors so that they can be fixed in time. It is called Error reporting data.
Read: How to create a Private Team and change Privacy in Microsoft Teams.
Microsoft Teams User Activity Report
To view and edit a Teams user activity report, you must be a Teams service admin. To know more about admin roles and permissions, access Teams administrator roles to manage a team.
In the left navigation pane of the Microsoft Teams admin center, go to Analytics & reports > Usage reports.
Select Teams user activity from the View reports tab, under the Report tab.
Select a range under the data range tab
Click on Run report.
Interpreting the Teams User Activity Report
The Teams user activity report can be viewed over the last 7 days, 30 days, or 90 days. The report gives a breakdown of usage by the user. It gives details of channel messages, reply and post messages, organized meeting details, and participated in meeting details. One can also give details of the last activity, video time, and screen sharing activity.
This report is useful for company administrators to view insights into employee activity using Teams. Administrators can view up to 19 different types of user activity data. Presently, there is no way for users to opt-out of this data collection from their respective company administrators. Although many companies may not be aware of the availability of such data.
Where is the Teams user data stored?
Microsoft Teams operates across the world and in several jurisdictions with different standards for the way data is handled. In case you want to see where the individual data is physically stored, you can go to Microsoft 365 admin center. Click Settings > Organization profile, and then scroll to Data Location.
Managing Teams Notifications
While working on Teams, receiving several notifications with constant pinging in the bottom right of the screen can be quite a distraction.
You can take back the control by clicking on the three dots at the top right of the Teams, selecting Channel notifications, and turning them off completely. You can also set up new rules by selecting "Custom".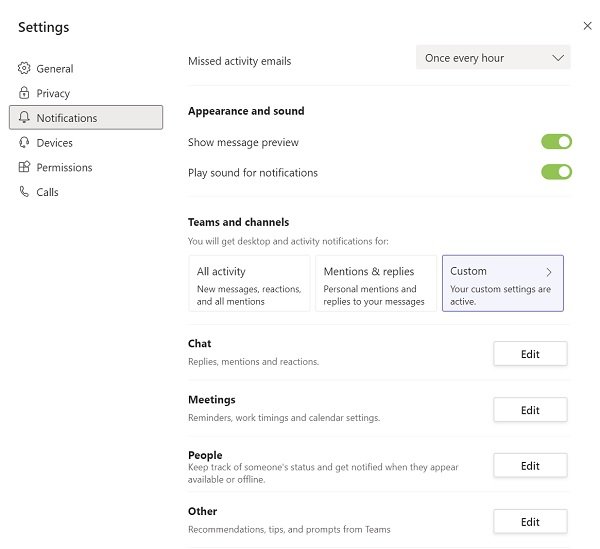 You may want to turn off "All new posts" and may also want to reduce Channel mentions i.e. when someone tags you in a channel using @Channel name from "Banner and feed" to "Only show in feed".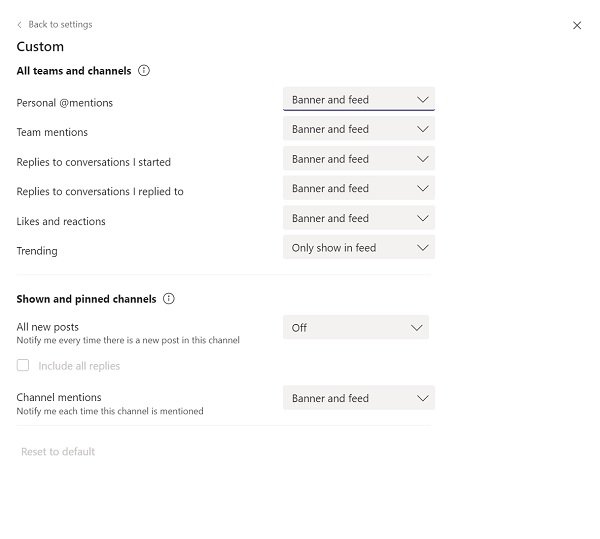 Another distraction is when you have been invited to a scheduled meeting or have left a meeting partway but still receiving notifications every time a message is typed into the chatbox of the ongoing meeting.
A temporary solution for this problem is to change your status to "Do not disturb". You can do this by clicking on your profile picture on the main page of the Teams, click on "Available" and change it to "Do not disturb".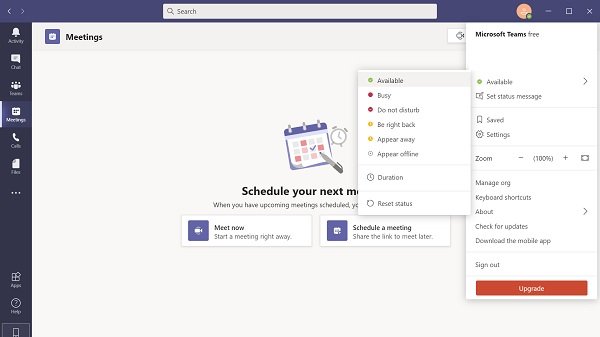 You can also manage priority by going to Settings > Privacy, click on "Manage priority access" and add the names of the people from who you want notifications.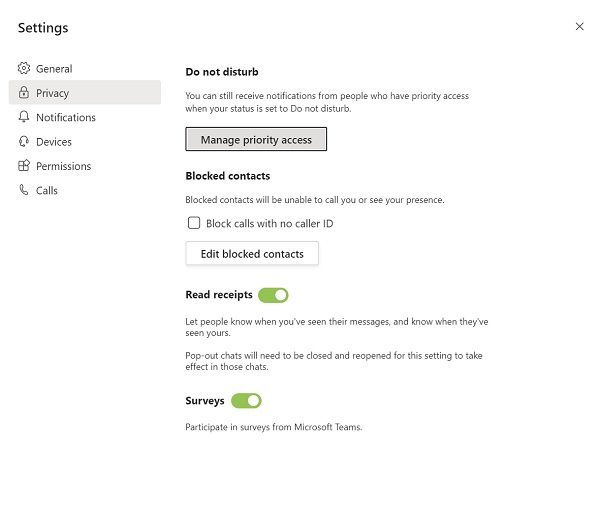 Read: Microsoft Teams crashes or freezes during meetings.
Access control in Microsoft Teams
Teams also provide you a way to limit access on Microsoft Teams so that you get time and space to think and work.
You can do this by going to Settings > Privacy and toggling the "Read receipts" radio button.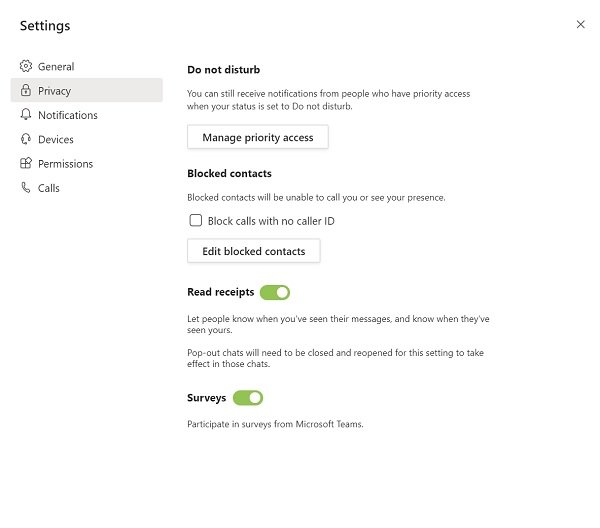 You can ask your organization to turn on the multi-factor authentication on your account and add an extra layer of protection. A strong, unique password and a password manager is necessary for account protection.
You can also set up private channels if you are a member of a specific team, allowing limited access to only certain members of the team. In the chosen team, go to the channels section, and click on the three dots. Go to Add channel, under Privacy, and select Privacy.
You can then select the respective people to add to the team – up to 250 people. Only a channel creator can add or remove people from a private channel. Files or messages shared within a private channel are not accessible to anyone outside it.
Microsoft Teams has gained popularity, with the shift to remote work. Workers now need to collaborate while ensuring sensitive data stays completely secure and the Teams user activity report is not misused.  The above-mentioned suggestions will help keep your data secure while maintaining smooth communication. Hope they work out for you.