We need to take screenshots of our desktop a number of times; mostly to share them with someone. All Windows machines have the ability to take screenshots using the Print Screen (PrntScr or PrtScn) hotkey. Windows 10 has made the task of taking screenshots even easier. Simply press the Win+PrtScn, and the screenshot of your desktop gets saved in 'Screenshots' folder under 'Pictures'. The earlier versions of Windows machines needed you to press Alt+PrtScn to take a screenshot of the active window.
However, if you want to take the screenshot of Lock Screen in Windows 11/10, without using a screen capture software then how will you do that?
Take screenshot of Lock Screen in Windows 11/10
The concept of Lock Screen was initially introduced in Windows 8 OS, and it is carried forward in the next version of the OS including Windows 11/10. A typical Lock Screen shows several useful details such as date, time, battery status, network connectivity and a customizable background wallpaper, with additional information. It looks as follows:
Typically, you will need a screenshot of the lock screen in Windows 10 because you may want to share the advertisement getting displayed on the screen. Or just want to share the background picture with your friends. Whatever may be the reason, if you want to take a screenshot of this screen, the usual methods of pressing Win+PrtScn or Alt+PrtScn won't work.
It is very much possible to take a screenshot of Lock Screen in Windows 11/10 with this simple trick. Windows 10 has the built-in feature for this task, and that is called as 'PrtScn'. Surprised? Well, this hotkey does work on the Lock Screen as well. So, simply lock your screen and press PrtScn hotkey. Windows 11/10 will copy the screenshot of your locked screen to a clipboard.
Now, login and open Microsoft Paint or any other image editing software you have. Press Ctrl+V  to paste the image on the drawing board.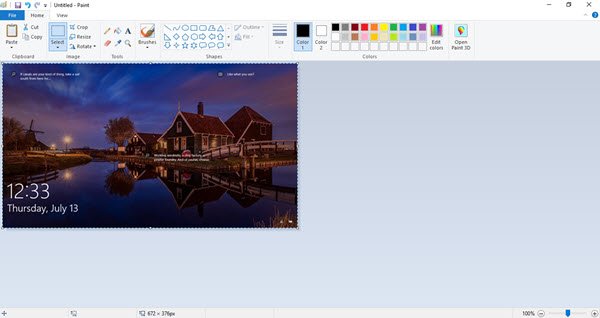 Now, follow the typical process of saving the image. And you are ready with the screenshot of Lock Screen in Windows 11/10 to share.
One thing to note here is that the hotkey of PrtScn works on Lock Screen of Windows 10 only. It will not work on Windows 8 or Windows 8.1.
Take screenshot of an active program window using Win+Alt+PrtScn
Apart from taking a screenshot of the Lock Screen in Windows 11/10, there is also a small trick for taking a screenshot of an active program window on Windows 10. On Windows 11/10PCs, if you press the shortcut key Win+Alt+PrtScn, it will take a screenshot of the active Window and also save it.
Basically, Win+Alt+PrtScn shortcut key opens the Game Bar feature in Windows 10. This feature lets you record the videos of games that run on PC. If you wish to share the footage of your gameplay with your friends or on YouTube, you can use this shortcut. When you click Win+Alt+PrtScn, it opens the Game Bar pop up from the bottom of the screen, which looks as follows:

Click on 'Yes, this a game' option and Game Bar will save the screenshot of your current window and a message will pop up saying the screenshot is saved.

You will find the saved screenshot on this location: This PC > Videos > Captures folder. One thing to note here is that this feature captures the content of the window without the window frame and title bar.
Take screenshot of Login Screen in Windows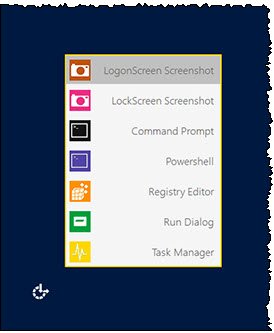 To take a screenshot of your Login screen, use our freeware Ease Of Access Replacer to replace the Ease of Access button with useful tools on your Windows login screen.
Once you have done it, you can use the LogonScreen Screenshot option to capture the required screenshots.
So use these simple tricks to save the screenshots of Lock Screen, active program windows as well as the Login screen in Windows 11/10 and let us know your experience.
How do I take a screenshot without using the Print Screen key?
If your laptop keyboard is compact, you can use the  Fn + Windows logo key + Space Bar to take a screenshot. You may also want to check closely if the PrintScreen button is missing or if you cannot find it. Since most laptop keyboards are compact, keys are often combined.
How to take screenshots in a browser?
When pressed on an active browser, Cntrl + Shift + S will bring up the screenshot tool. You can choose to capture an area or take a full screenshot. Once done, you can copy it into the clipboard, draw over it or perform a visual search.