In as much as System Restore is a great feature in Windows 11/10 that can be used to resolve most issues by reverting the system to an earlier working state (snapshot), the feature has its fair share of errors. One such error is 0x80070780, which you may encounter when you try to perform a system restore on your device. This post provides the solutions to this particular error.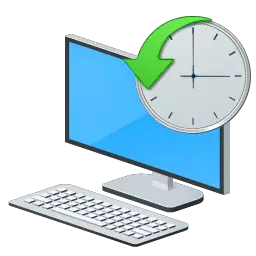 When you encounter this issue, you'll receive the following full error message;
System Restore did not complete successfully. Your computer's system files and settings were not changed.

Details:
System Restore failed to replace the file with its original copy from the restore point.
An unspecified error occurred during System Restore. (0x80070780)

You can try System Restore again and choose a different restore point. If you continue to see this error, you can try an advanced recovery method.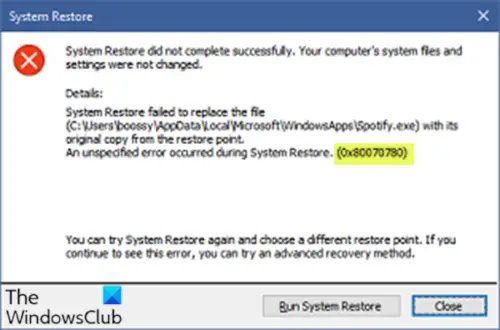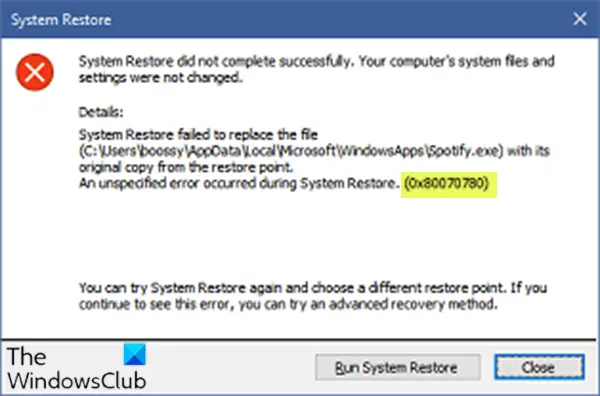 This can occur if a file is conflicting with the system restore operation. Investigations also revealed that this issue is not just with the Spotify app but numerous Windows Store apps.
System Restore failed to replace the file (0x80070780)
If System Restore has failed, you can try our recommended solutions below in no particular order and see if that helps to resolve the issue.
Clear Temp folder
Temporarily disable your security software
Create new user account
Perform Clean Boot and then perform System Restore
Let's take a look at the description of the process involved concerning each of the listed solutions.
1] Clear Temp folder
To clear the Temp folder on your Windows 10 computer, do the following:
Press the Windows key + R to invoke the Run dialog.
In the Run dialog box, type temp, and then press Enter.
Press CTRL + A to select all files and folders.
Tap the DELETE key on the keyboard or right-click the selection, and click Delete from the context menu.
If you are notified that some files or folders are in use, select Skip.
Better still, run Disk Cleanup Tool to clear all PC junk files.
2] Temporarily disable your security software
You may temporarily disable your security software and then run System Restore and see if that helps you.
3] Create a new user account
As you can tell from the error prompt, the path points to a user profile/account. So, it might be a case of a corrupt user profile.
In this case, you can create a new user account and then transfer your files to the account.
If this solution doesn't work for you, try the next solution.
4] Clean Boot and perform System Restore
A Clean Boot is performed to start Windows by using a minimal set of drivers and startup programs. This helps eliminate software conflicts as it appears with Microsoft Store and other apps. In a clean boot state, you can try a system restore again and see if it completes successfully.
This post offers additional suggestions if System Restore is not working.
Similar error code: Error 0x80070780, The file cannot be accessed by the system.