Some Windows users when they try to perform System Restore on their Windows 10 device might encounter the error code 0x8007045b. This post offers the most suitable solution/workaround you can try to effectively resolve the issue.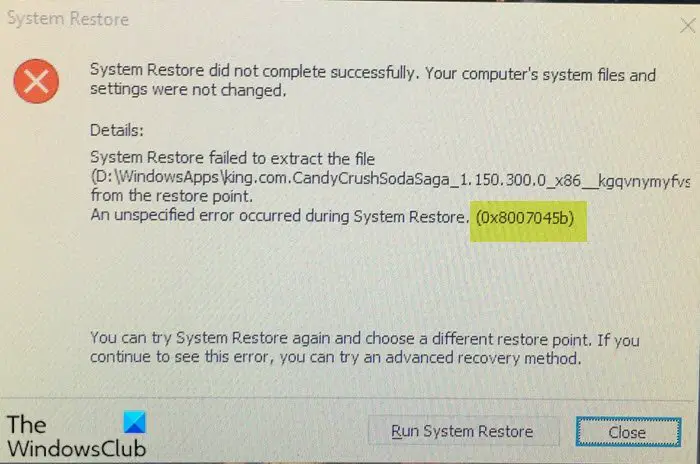 When you encounter this issue, you'll receive the following similar full error message;
System Restore did not complete successfully. Your computer's system files and settings were not changed.

Details:
System Restore failed to extract the file from the restore point.
An unspecified error occurred during System Restore. (0x8007045b)

You can try System Restore again and choose a different restore point. If you continue to see this error, you can try an advanced recovery method.
This problem occurs because of a known issue in the System Restore program.
Fix System Restore error 0x8007045b
If there is encrypted content in the restore point, when you start the System Restore program to restore the system, System Restore creates a shutdown task to do the real restoration work. When this task is being executed, most system services are already stopped. This includes Encrypting File System (EFS).
If any file is being encrypted by EFS in the restore point, the System Restore program will have to call in to the EFS service to extract files of this kind from the restore point. But because the EFS service is already stopped and cannot be restarted because the system is being shut down, the restoration process fails.
To work around this issue, you need to boot into Windows RE (Recovery Environment), and then run the System Restore operation.
Since Windows RE is preinstalled in Windows 11/10, you can boot into it in multiple ways.
If you are stuck on the login screen, click on the Shutdown button, and then choose to Restart holding down the Shift key.
Windows 11 users need to go to Settings > System > Recovery > Advanced Startup > Restart now. Windows 10, go to Settings > Update & security > Recovery > under Advanced Startup, click Restart now.
You can use a recovery media to boot into Windows RE.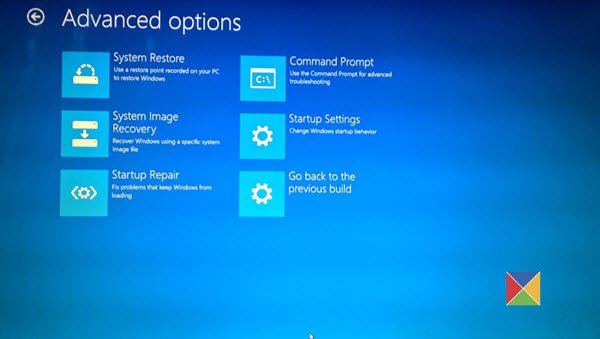 In Windows RE, click Troubleshoot > Advanced Options > System Restore, and then follow the prompt to perform the System Restore operation.
This resolves the issue at hand since EFS is always running in Windows RE, and because System Restore doesn't have to create a shutdown task to perform the restoration work in Windows RE, this specific issue will not occur in Windows RE.
Hope you find this post helpful!
Similar error: System Restore error 0x8007007e.