Microsoft Surface comes with Windows recovery options that allow you to Refresh or Reset the Surface device to its factory condition. If you face any issues while using Surface, you should try using these built-in recovery tools. But if these options fail and do not help you, or if you can't access the recovery tools for some reasons, you can download the official Surface Recovery Image from Microsoft. Recovery Images are available for Surface Studio, Surface Book, Surface Pro 4, Surface Pro 3, Surface 3, Surface Pro 2, Surface 2, Surface Pro, Surface RT, Surface Book 2, and Surface Go.
Recovery Image for Surface
Before you download the Surface Recovery Image, keep a USB drive ready. Surface RT and Surface users may need an 8GB USB whereas Surface Pro users should ensure that their USB is at least 16 GB.
Follow these steps to download the Recovery Image for your Surface device.
1] Sign in with your Microsoft Account. Visit the link mentioned towards the end of this post.
Next, select the Surface product for which you wish to download the recover images.
2] Enter the serial number of your Surface device. You will find it at the back of your Surface, lift the stand to see it.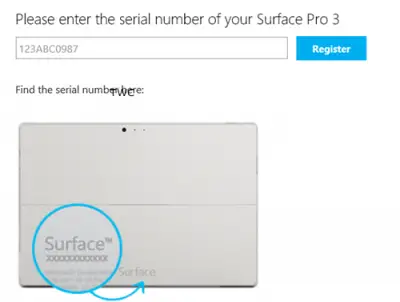 3] If you haven't registered your Surface yet, register it
4] Once you do this, you will be shown the download link for your Surface. Download the Surface recovery image. The image size for my device was just over 6MB, but the download took a really long time.
5] Create the recovery drive for Surface. You can create the recovery drive for Surface using a Surface or any Windows computer. Creating the recovery drive will erase everything that is present on your USB drive. So make sure you transfer the data from your USB drive to another storage device before using it to create a Surface USB recovery drive.
Once you have done this, open File Explorer, right-click on the USB drive and choose Format. Select FAT32 as the file system and enter a Volume label to name the USB drive, say, Surface Recovery and click Start. Once this process is completed, drag the downloaded recovery image files from the compressed folder to the USB drive.
You can now use the recovery USB drive to refresh or reset Microsoft Surface.
Surface Recovery Image download
Visit Microsoft.com to get started.
Now Read: Create Surface Book and Surface Pro 4 Recovery Drive.