If your Windows PC ever runs into a problem, a Recovery Image can help you recover your operating system, as well as troubleshoot and fix most of the problems. Every PC comes with a recovery image to refresh or reset your PC. It is stored on a dedicated recovery partition on your PC. Recovery Images for Surface Book, Surface Pro and all other Surface devices have now been made available by Microsoft. It might therefore be a good idea to create a recovery drive for your Surface devices right away, just in case you need them sometime in the future.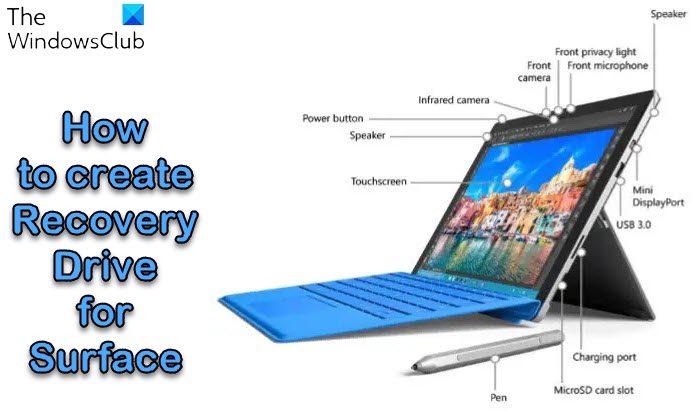 Surface has built-in Windows recovery information, stored in a dedicated recovery partition, which you can copy to or move to a USB recovery drive. For creating a recovery drive, you'll need an external USB drive formatted to FAT32, with enough available storage space for all your recovery data.
How to create Recovery Drive for Surface
Follow this procedure to create a Recovery Drive for Surface devices:
Connect the power supply of your device and plug it into an electrical outlet.
In the taskbar search box, type recovery, and from the options displayed select Create a recovery drive. If prompted by the User Account Control dialog box, select Yes.
Next, select the Backup system files to the recovery drive check box, and hit the Next button.
The screen that will appear on your Surface device will let you know if there's enough space available on your USB drive. Select Cancel if you want to close the recovery drive tool.
Insert the USB drive into the USB port on your computer. Open File Explorer, right-click the USB drive, and select Format. Under File system, select FAT32 and click Start. This will format your USB and delete all its contents.
Now, again open Create a recovery drive wizard. Select the Back up system files to the recovery drive check box, and hit Next.
Choose the USB drive you want to use, and select Next. Now select Create.
The Recovery image and recovery tools will be copied to your USB drive.
Once done, select Finish.
You may also Delete the recovery partition if you want to remove the recovery tools from Surface and free up disk space.
How to use your Surface Recovery Drive
Turn off your Surface device while keeping it plugged in and insert your USB recovery drive into the USB port.
Press and hold the volume-down button while you press and release the power button on your Surface. Upon seeing the Surface logo, release the volume button.
Thereafter, simply follow the on-screen instructions.
You can also use the Surface USB recovery drive if you are prompted for installation files when trying to refresh or reset under Start > Settings > Update & security > Recovery. When the prompt pops up, simply insert the recovery drive and follow the instructions.
Remember, if you delete the recovery information from your Surface after you create the USB recovery drive, make sure you keep the USB recovery drive in a safe place since a recovery image will no longer be stored on your Surface, and you'll need your USB recovery drive if you ever need to refresh or reset your Surface, says Microsoft.
TIP: You can also download the Surface Recovery Image from the Microsoft website.