There have been instances where Outlook crashes or closes unexpectedly. When such an incident occurs, the service attempts to reopen items from a previous session. Many do not like this default behavior setting. If, you too, are one of them here's how you can easily stop Outlook from reopening emails after a crash.
In an event when there's an unexpected failure or forced closure of the Outlook app by the user, the service will attempt to remind the user to reopen items from the last session via a prompt message –
Outlook closed while you had items open. Reopen those items from your last session.
Stop Outlook from reopening emails after a crash
In its release notes, Microsoft mentioned,
We added an option to quickly reopen items from a previous Outlook session. Whether Outlook crashes or you close it, you'll now be able to quickly relaunch items when you reopen the app.
The setting is enabled by default, but there are some preference options listed for users which allow them to disable this feature.
Launch the Outlook app.
Go to File.
Choose Options.
Navigate to Startup options
Select Never restore previous items.
Let's see the above steps in a bit of detail!
Launch Microsoft Outlook app. If you don't have it, download, and install it.
Next, choose the 'File' tab from the Ribbon menu.
Select 'Options' from the list.
Next, switch to the right-pane and scroll down to the 'Startup options' section.
Under it, you should find an option that says, 'When Outlook reopens'.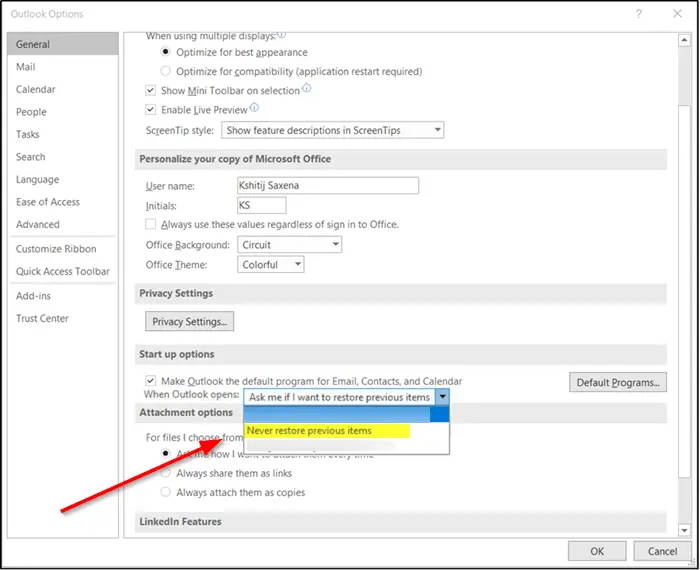 When seen, click the drop-down menu button to make all the options visible. There are the following options,
Ask me If I want to restore previous items.
Never restore previous items.
Always restore previous items.
Now, since you want to disable Outlook from reopening the previous items, choose the option that reads 'Never restore previous items'.
When done, hit the 'Ok' button to apply the changes made.
Hereafter, your Outlook account will not reopen your previous session, if it failed or crashed unexpectedly and the prompt message will not be displayed.
That's all there is to it!