SteamVR may sometimes, keep asking users to update their Graphic driver, even though they have updated it. The error message says the following:
SteamVR performs best with an up to date graphics driver. We recommend that you update yours now.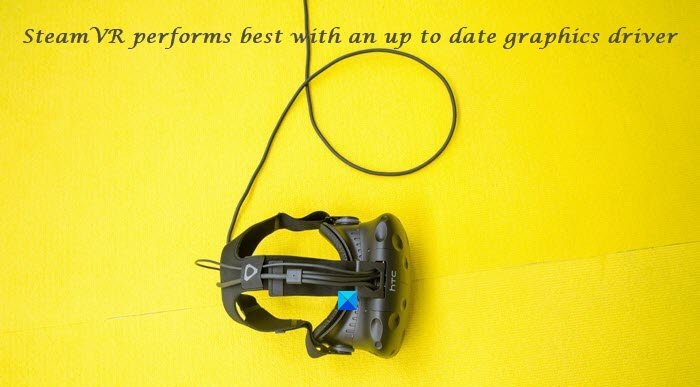 If you are one of these users, we got your back. If SteamVR keeps telling to update the Graphics driver, read the article to find the best solution.
SteamVR keeps telling to update the Graphics driver
If SteamVR keeps telling to update the Graphics driver, follow the given methods to fix the issue:
Update or Reinstall Display Driver
Customize Steam from NVIDIA settings
Let us talk about them in detail.
1] Update or Reinstall Display Driver
The first thing you need to do is to reinstall the Display (Graphics) Driver. It is pretty simple to do that, you just have to follow the given steps and you will be good to go.
Launch Device Manager by Win + X > Device Manager.
Expand Display Adapter, right-click on your Graphics driver
Select Uninstall device.
Click Uninstall to confirm your action.
Your screen will go black, so, wait for a few minutes and your OS will automatically download the correct driver.
After reinstalling the Graphics Driver, reboot your computer and check if the issue is fixed. You should also update any other Graphics driver that you may have of a Graphics card, other than the integrated one as that can also cause the error.
This post tells you in detail how to update Graphics Drivers and where to download AMD, NVIDIA, etc drivers from. You can then manually fresh-install them.
2] Customize Steam from NVIDIA Settings
If you have an NVIDIA Graphics card and are facing this issue with SteamVR, alter Steam's settings from its Control Panel to fix the issue. So, follow the given steps to do that.
Launch NVIDIA Control Panel by right-clicking on the vacant space of your home screen and selecting NVIDIA Control Panel.
Click 3D settings > Manage 3D settings.
Go to the Program Settings tab, click Add and select Steam.
Now, set Power management mode to Prefer maximum performance.
This will fix the error for you.