At the moment, Spotify is the best music streaming service on the market. If you want to enjoy your favorite tracks of all genres, and even listen to top podcasters, then Spotify is the spot for yourself and millions of others. But despite being a brilliant service, the app itself can run into problems from time to time. From what we are hearing, some users are experiencing an issue with Spotify while playing music, they come across an error Something went wrong when logging in. This is a nondescriptive error, which means, it doesn't explain what the cause is, just that something went wrong and that's it.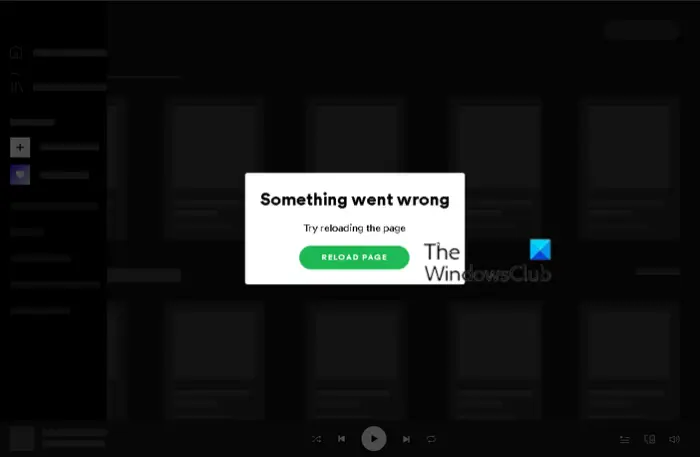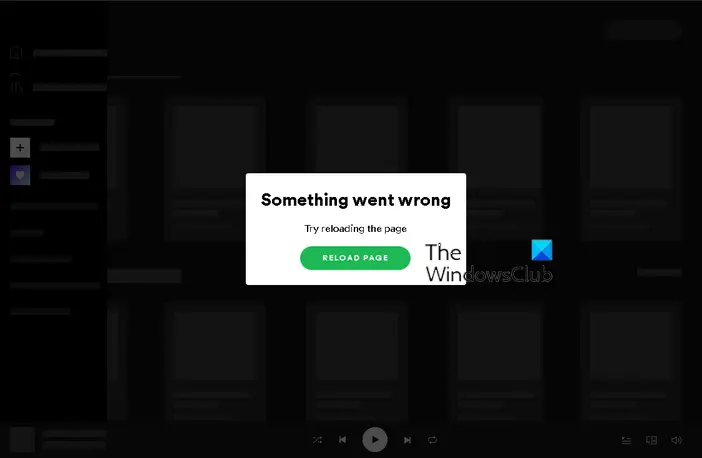 Fix Spotify Something went wrong error on Windows PC
So, the question is, what is the cause behind this error, and can it be fixed without performing any major changes? Well, it seems as if the error has much to do with server outages, or maybe the app is outdated. In other situations, it could boil down to the use of a VPN or proxy. As you can see, there is no concrete problem that could force the "Something went wrong" error to appear. But here are some suggestions to help you:
Restart the Spotify app
Check if Spotify servers are down
Disable your VPN service
Delete Spotify cache data
Use the private session feature
Flush the DNS
1] Restart the Spotify app
One of the first things you need to do here is to restart the app to see if you're experiencing a temporary glitch.
To restart, simply press the X button at the top-right to close.
From there, press the Windows key to open the Start menu.
Type Spotify, then select it from the results to have it opened.
If the error is still appearing after restarting the app, then the issue is much deeper.
2] Check if Spotify servers are down
There is a chance Spotify is acting up due to problems with the servers. This is not common, but it does happen at times.
Visit any website down detector service.
Search for Spotify via the search bar.
Choose it from the results.
From the Spotify page, look to see if there are any current problems.
Should there be issues regarding Spotify servers, then all you have to do is wait. Things will return to normal after a short while.
3] Disable your VPN service
Issues can arise if you are connected to a VPN server while using Spotify. You may not want to do it, but to potentially put an end to the "Something went wrong" error, then you should consider turning off your VPN service. At least, you can disable it only when Spotify is in use if you wish.
4] Delete Spotify cache data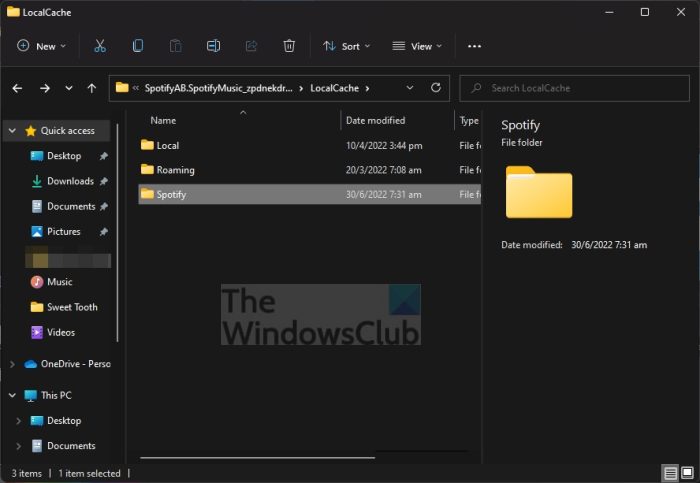 You may not have known this, but Spotify stores cache data in a similar manner to other applications. It helps with making Spotify faster, but there are times when the cache data could get corrupted, and when that happens, users could face the "Something went wrong" error.
In order to set things right again, folks must clear the cache data, and we're going to explain how to do it.
Open the Run dialog box by pressing the Windows key + R.
From there, type %appdata% into the box and hit Enter.
The AppData folder should now appear.
Open the Local folder.
Navigate to Packages.
From within the Packages folder, scroll down until you come across SpotifyAB.SpotifyMusic_zpdnekdrzrea0.
Select the option that reads, LocalCache
Open the Spotify folder and delete everything within it.
Boot into Spotify again and check to see if the problem still persists.
5] Use the private session feature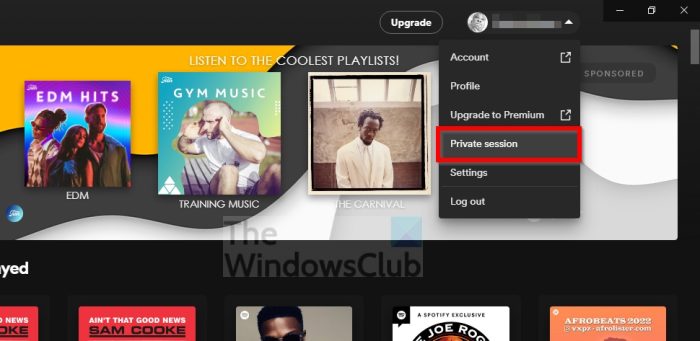 For those who weren't aware, Spotify has a private session feature where users can listen to music anonymously. This ensures your followers cannot tell what you're listening to. Now, we understand switching to private session, in some instances, can put an end to the error.
Launch the Spotify app.
Click your profile icon to reveal a dropdown menu.
From the menu, select Private Session.
If all goes according to plan, then the issue should now be fixed once and for all.
6] Flush the DNS
The final step to take here if all else fails is to flush the DNS cache. We know that corrupted DNS can cause a computer to have problems accessing servers, and that could mean the Spotify servers.
Read: How to see Lyrics on Spotify while playing a Song
Why won't Spotify log in on my computer?
Check to see if you are using the correct username and password. Additionally, you can consider resetting your credentials if you feel you've forgotten them. Finally, reset the Spotify cache but only do this as a last resort.
Does clearing the cache delete data from Spotify?
Not from Spotify, but it will delete any local data that the app stores on the storage. It means you will have to login back to Spotify again, and download all your personal data related to music, podcast, or anything that syncs across all the devices. Clearing the cache is helpful when Spotify doesn't work as expected.