If Spotify Blend is not working, updating, or showing up, then this post will be able to help you.
Spotify has come out of nowhere to become the leading music subscription service across all devices. Folks not only have the ability to listen to their favorite music but podcasts as well. Additionally, users can create playlists that contain their favorite songs. Over the past couple of years, Spotify has added several new features to improve the platform's usability, and one of them is called Spotify Blend. It's an interesting feature that everyone should use if they like to create playlists.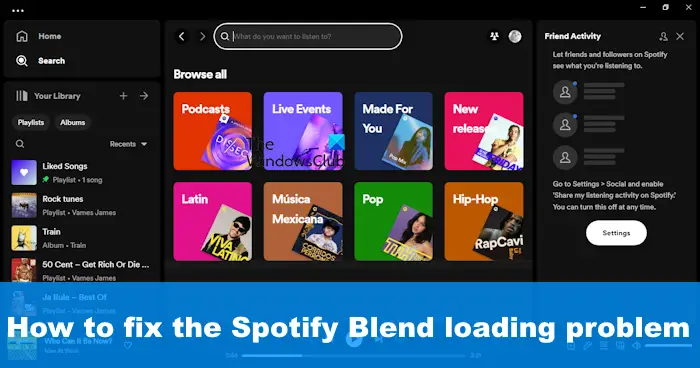 What is Spotify Blend?
Spotify Blend is a feature that allows users to create a playlist with other users of Spotify automatically. This will work if the additional users select songs based on shared listening history in the past. Interestingly enough, the playlists from Blend tend to update daily, which means you will always have new music to listen to.
Fix Spotify Blend not working or updating
If Spotify Blend is not working, updating or showing up, then take the following steps to resolve the issue:
Check the quality of your internet connection
Use Spotify more often
Check to see if Spotify servers are down
Clear the Spotify cache
1] Check the quality of your internet connection
One of the reasons why Spotify Blend is not updating may have much to do with your internet connection. You see, while it is possible to use Spotify offline, the same cannot be said for the Blend feature.
The easiest way to check if your internet connection is working is to open your favorite web browser, attempt to visit a website or perform a search. If errors appear instead, then chances are your internet connection is facing issues.
READ: Spotify says No Internet connection
2] Use Spotify more often
Here's the thing, Spotify Blend will not update if the platform is hardly being used. That's because Spotify Blend works hand in hand with your listening history and compares it with the listening history of other users who are part of Blend.
This, in turn, creates a playlist of all the songs you and others have listened to. So, as it stands, if you have not listened to music in a long while, then you may have issues with Blend not loading.
READ: Fix Spotify Lyrics not working on Windows PC
3] Check to see if Spotify servers are down
Another option to take here is to check if the Spotify servers are down. We can do this easily by visiting the Spotify page on any Down Detector website. These sites will let you know if the servers are down or not and if the app or website are affected individually or simultaneously.
If the servers are down, then your best bet here is to wait until Spotify solves the issue. This will likely take a few minutes up to a few hours. It should not take long, so don't worry too much.
READ: Spotify is not updating podcasts
4] Clear the Spotify cache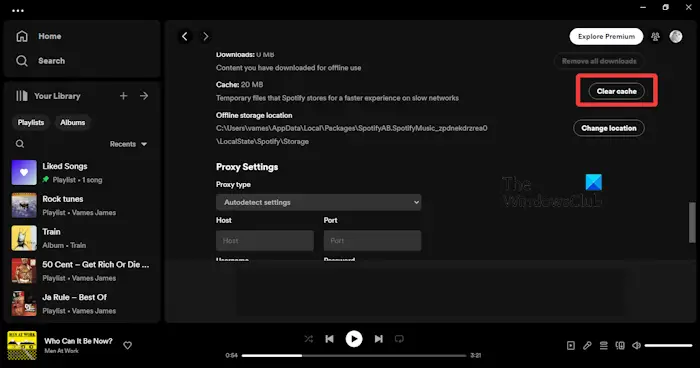 If all the above possible solutions have failed, then we suggest clearing the Spotify cache to see if things can return to normal.
To clear the cache, open the Spotify app on your computer.
Sign in if you haven't done this already.
From there, click on the profile photo, then select Settings.
Scroll down to Storage, then click on the Clear Cache button to complete the task.
Now, as for Android and iOS, go to the Settings section and navigate to Storage.
After you've done that, tap on Delete Cache for Android, and Clear Cache for iOS.
READ: How to turn on Private Sessions on Spotify
How long does it take for Spotify Blend to update?
The Blend feature in Spotify updates daily with new songs based on everyone's listening habits. If updates do not happen, then chances are it has much to do with your internet connection, Spotify server problems, among other things.
What is the max amount of Spotify Blends?
The Spotify Blend feature allows the platform to blend playlists with up to 10 users on Spotify. Folks can easily create podcasts and music playlists based on listening preferences.