The connection between your Windows 11/10 PC and printer is established via a printer driver. On most occasions, everything works well and looks good but sometimes the printer fails to respond and returns error message 0x000007d1 – The specified driver is invalid. What course of action should be followed to correct this behavior?
Operation could not be completed (error 0x000007d1), The specified driver is invalid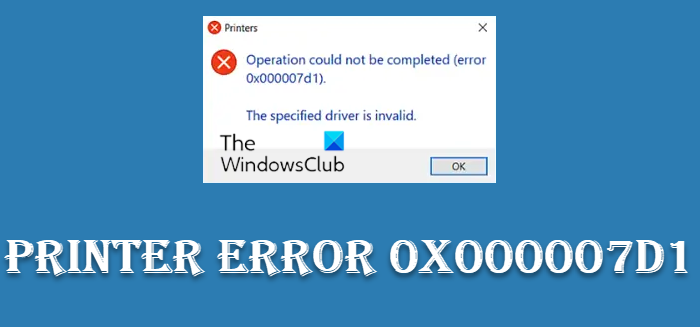 Printer error 0x000007d1, The specified driver is invalid
Normally, fixing a printer driver error is just a matter of updating, installing or reinstalling the driver. If this method does not work then, you may try a simple Registry hack. But before you begin create a system restore point first.
Open Registry Editor. Press Win+R key in combination to bring up the 'Run' dialog box. In the empty field of the box, type 'regedit.exe' and press 'Enter'.
When the Registry Editor opens, navigate to the following key:
HKEY_LOCAL_MACHINE\SYSTEM\CurrentControlSet\Control\Print\PostSPUpgrade
Switch to the right-pane to locate the PostSPUpgrade entry.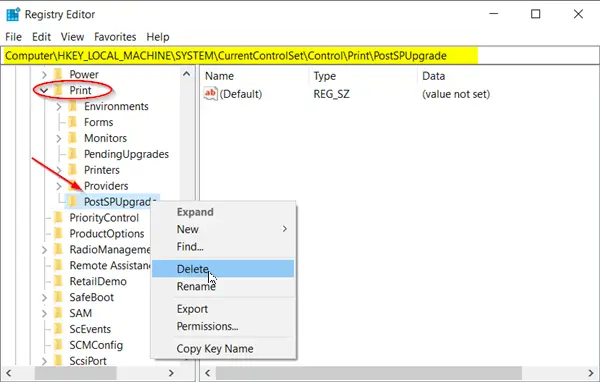 Right-click the entry and choose 'Delete' option.
When prompted for confirmation, select 'Yes'.
Now, close the Registry Editor and restart the computer.
Hereafter, you should not see the specified driver invalid when trying to print something in Windows 11/10. You should also be able to do the print job.
Read next: Print Spooler Service is not running in Windows 11/10.