Steam is the most popular platform on Windows 11/10 for gaming, and we suspect this will be the case for many more years to come despite challenges from the Epic Store and the Microsoft Store in recent times. Now, we are in love with Steam, but it has a problem where some programs may affect its performance.
Furthermore, we've come to understand that some apps installed on your computer can even cause connectivity issues and crashes. For those who play a lot of online video games, this is something they do not want to experience, ever.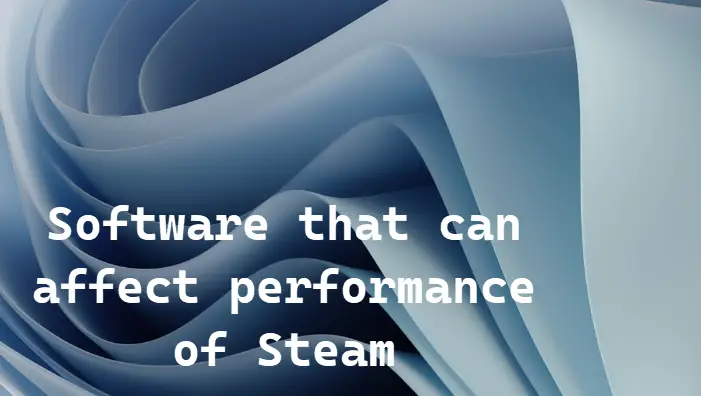 Before we talk about the types of programs that are capable of affecting the performance of Steam, we must point out that issues relating to any of the upcoming programs can be easily fixed in most instances. We suggest disabling the app, and from there, exit and restart Steam.
You may have to reboot the computer to set things back to normal again when it comes down to some tools.
Software that can affect the performance of Steam on Windows 11/10
There are many such tools out there capable of causing Steam not to work correctly as it should. However, we have decided to focus on the more important ones, as mentioned below:
Virtual Private Network (VPN) Software
Firewalls & Security Applications
3rd-party Anti-virus Software
Peer-to-Peer (P2P) Clients & File Sharing Software
IP Filtering/Blocking Programs
Download Accelerator and Download Manager Programs.
1] Virtual Private Network (VPN) Software
Yes, we know that VPN programs are great for many things, especially if you want some sense of protection online where privacy is concerned. However, these tools are capable of affecting the client from accessing the Steam network.
We suggest checking your VPN app and configure it to allow traffic from Steam and its games to go through without issues.
2] Firewalls & Security Applications
Depending on how your Firewall is configured, it could be blocking Steam from communicating with the relevant servers. The best option to take here is to add exceptions to the Firewall to ensure connections from the Steam client have safe passage.
3] 3rd-party Anti-virus Software
Issues facing your Steam client may be linked to your preferred 3rd-party anti-virus software. You see, some games take full advantage of copy protection technologies that can show up as malicious software, which may result in blocks.
When this happens, the affected games will fail to work effectively or at all. So check and disable those settings temporarily when using Steam.
4] Peer-to-Peer (P2P) Clients & File Sharing Software
P2P clients and other types of file-sharing programs also use a lot of internet bandwidth in similar ways to download managers. In most cases, these types of software is more of a hindrance than anything else. Whenever you run a peer-to-peer program, you will likely realize that it takes up much network bandwidth. If you try to play online games via Steam, it will become apparent how slow your internet connection is.
The best step to take here is to close the P2P program until you've completed your playing sessions.
5] IP Filtering/Blocking Programs
These programs are designed to disrupt traffic sent and received through your network for those who weren't aware. Such tools usually cause problems for the Steam client, so if you have one on your computer, then please disable it before launching Steam.
6] Download Accelerator and Download Manager Programs
A download accelerator or manager tends to use a lot of internet bandwidth when compared to the regular way of downloading files. More so if these tools are downloading multiple files all at the same time.
Disable these tools before running Steam or any online game from the platform if you want better performance.
How do I optimize my Steam performance?
For those who are looking for increased performance or optimize the performance of Steam from their games, we suggest lowering the in-game settings for starters. Additionally, you should consider closing apps you're not using to free up RAM space. However, it could help if you can make your Memory free for it.
Does Steam affect PC performance?
Yes, Steam can make your PC slower at times. As Steam is a heavy-weight application to run games on your Windows 11/10 computer, you could find the performance difference while using it on your PC. However, you might not find the same difference if you have a high-end configuration.
Read: Steam is using too much memory? Reduce Steam RAM usage using these tips!