While some like sidebars, others may find them as a distraction and an unwanted tool to show on your Windows desktop. If you are a sidebar lover who likes to keep a watch on your computer hardware, then SidebarDiagnostics is sure to interest you.
SidebarDiagnostics Sidebar for Windows systems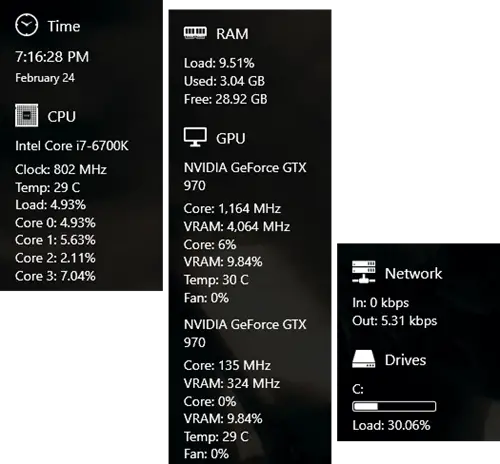 SidebarDiagnostics is a simple and lightweight tool, that when downloaded, allows you to display real-time information about your PC's hardware. It uses the information provided by Open Hardware Monitor. Depending on your working requirements, you can dock the sidebar on the right side or the left side or onto another monitor, if you have a multi-monitor configuration set up. It even allows you to customize information displays as well as the sequence of their appearance.
To use the application, open SidebarDiagnostics and run it. Once the preliminary setup is complete and the program is up and running, go to the app's settings. Here a user can find all the options related to customization.
SidebarDiagnostics supports a number of screens so you can select which screen you want the sidebar to seem on. Hotkeys in the SidebarDiagnostics application are not configured, by default. To configure them, simply head to the Hotkeys tab in settings.
One highlight of the application is that it integrates incredibly well with the Action Center seen in Windows 10. Whenever you access the Action Center, SidebarDiagnostics information panel simply hides behind the action center. Moreover, it inherits its shade from the taskbar.
SidebarDiagnostics features in a nutshell
Allows customization
Monitors CPU, RAM, GPU, network, and logical drives
Supports hotkeys binding
Creates graphs for all metrics
Allows alerts for various values
Supports monitors of all DPI types.
Features a clock.
If you think this could interest you, you could head over to Github to download it. Works on Windows 11/10/8/7.