To know the state of your battery power, you have to look in the System Tray area of the taskbar to see how full or empty your battery is! But BattCursor is a freeware that allows you to display the battery power directly below your mouse cursor!
BattCursor for Windows PC
BattCursor shows the remaining battery charge in percent directly under the mouse pointer and offers many other battery-saving features, including dim down the display brightness when inactive, automatically disable the Windows Sidebar, Aero Glass, and much more.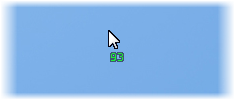 You can also change the level of opacity and your choice of colors for different battery levels, for example, yellow for low and red for critical, because what is more visible than your cursor.
In addition to these main functions offered by BattCursor also has many other functions. These other functions help the battery runtime to increase; dimming down the display brightness if the computer is inactive; automatically disabling the Windows Sidebar and Aero glass and also an option of an OSD for changes to the display brightness and system volume.
Works on Windows 10/8/7 (32 or 64 Bit). You can download it from here.