People who use the Windows operating system are aware of the Safely Remove Hardware functionality. This is a very useful function to protect the data on the USB from any harm when ejected from a computer. But many people tend not to use it. Some people who work in restricted environments have these USB devices plugged in always, and as they never eject them, the option is wasted for them. In this post we will see how you can restore the missing Safely Remove Hardware icon, or hide the Safely Remove Hardware icon from the Notification Area in Windows 10.
Show or hide Safely Remove Hardware icon
We will talk about these three methods using which you can show or hide the Safely Remove Hardware icon in Windows 11/10-
Hide the icon in Show hidden icons
Using Windows Settings
Using a Batch file.
1] Hide the icon in Show hidden icons
After you plug in your USB Device, locate the Safely Remove Device icon in the System Tray in the right bottom corner of your screen.
Now, click on that icon, hold it and move it to the left side where you see an arrow – and drop it into the Show hidden icons area.
The icon will be hidden
2] Using Windows Settings
Open Settings > Personalization > Taskbar.
On the right side panel, select the option that says Turn system icons on or off.
Select the Safely Remove Hardware option and toggle it to be off.
3] Using a Batch file
Open Notepad and copy and paste the following code in it-
reg add "HKCU\Software\Microsoft\Windows\CurrentVersion\Applets\SysTray" /v "Services" /t reg_dword /d 29 /f systray
Now, click on the File Menu and select Save as…
Give any file name and add the extension .bat in the end.
Save it in your preferred location.
Now, create a shortcut for it.
Open the Run box by hitting the WINKEY + R button combination.
Type in shell:startup to start configuring your current User Account's Startup programs or type in shell:common startup to start configuring the Startup programs for all the User Accounts on that computer.
Move that Shortcut file we just created to that folder.
Reboot your computer and check if that hides the icon.
Safely remove hardware icon missing from notification area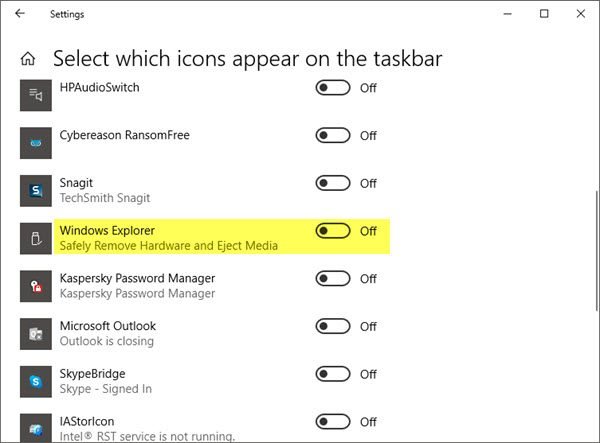 If you can't find the Safely Remove Hardware icon, then right-click on the taskbar and select Taskbar settings. Under Notification Area, choose Select which icons appear on the taskbar.
Now scroll to Windows Explorer Safely Remove Hardware and Eject Media and turn it On.
This post will help you if Safely Remove Hardware is not working.