Microsoft not too long ago introduced a new feature for Microsoft Edge known as Shopping with Microsoft Edge. It's an impressive tool, that will save you money while shopping online, but more so for anyone who shops online on a regular basis. Now, to take advantage of this feature, you must be living in a supported country.
What is Shopping in Microsoft Edge?
Shopping in Microsoft Edge feature helps to automatically find coupons, better prices, and rebates while you shop online or browse supported websites to find products or purchase them. A list of all available coupons on that site can be accessed from a sidebar. If you take advantage of Shopping with Microsoft Edge, then the tool will check multiple retailers in a bit to locate the lowest prices with the help of coupons.
How to tell if Shopping with Microsoft Edge is supported on your computer?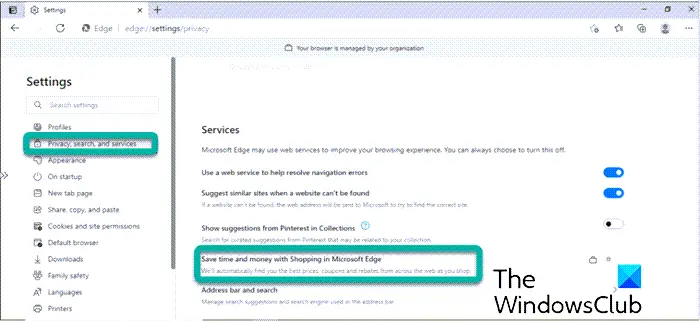 OK, so as we've stated before, this feature is not available for everyone. If you want to find out, then we suggest opening your Edge web browser and visit edge://settings/privacy. If you do not see "Save time and money with Shopping in Microsoft Edge" under the Services banner, then you're out of luck for now.
Shopping with Microsoft Edge
If you're wondering how to best make use of the Shopping feature, then keep reading the information below and you'll get a deeper understanding of what to do.
Open Microsoft Edge
Visit a supported website
Look out for coupon alerts
Use the coupons at checkout
1] Open Microsoft Edge
The first thing is first. You must fire up Microsoft Edge. You can do this by clicking on the icon located on the taskbar or looking for it on the desktop. Alternatively, you can choose to open Microsoft Edge from the Start Menu.
2] Visit a supported website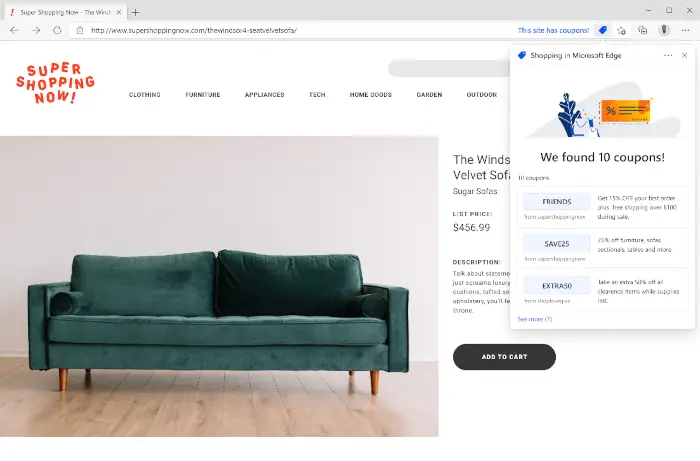 The next thing you will need to do here is to visit one of the many supported websites. Amazon is one of them, so you can go there if you wish.
3] Look out for coupon alerts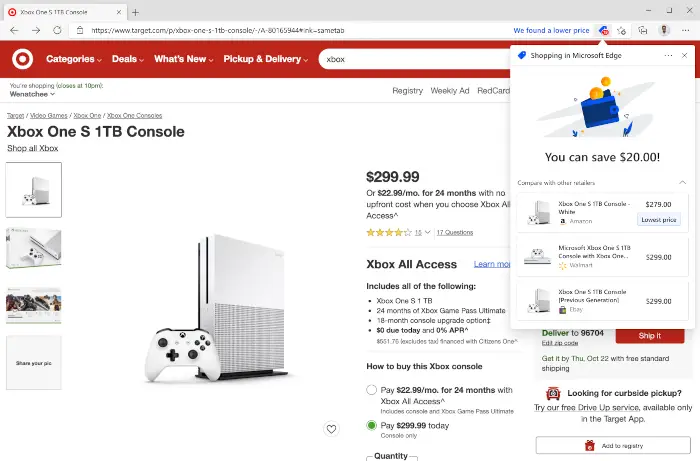 If there are any coupons available from that website, then right away the Shopping with Microsoft Edge tool will alert you of coupons you can use to save some cash. Now, by clicking on the blue shopping tag, you can view these coupons whenever you want.
4] Use the coupons at checkout
Finally, when you're at the checkout, you only need to copy the coupon code, then paste it in the correct section and that's it, you've saved some money.
Bear in mind that some coupons are only valid for certain items, or items at a particular price point. Also, once a coupon is used, it is no longer valid.
Read: Avoid Online Shopping Fraud & Holiday Season Scams.
How do I disable Shopping for Microsoft Edge?
Not everyone who lives in a supported country may want to use the feature, therefore, to turn it off, you must open Microsoft Edge, then type the following into the address bar and hit the Enter key:
edge://settings/privacy
Once you've done that, look for "Save time and money with Shopping in Microsoft Edge" and use the toggle button to turn it off.
Hope this helps.