Microsoft has rolled out Family integration one OneNote Application. A lot of people use it to maintain their daily shopping list, homework, and even projects.  Now with Microsoft Family feature integrated into OneNote, you can share your OneNote data with all the members of your family, let everyone edit and add details based on the purpose. This is specifically useful when you are planning for an event or a trip.
Microsoft Family is one of the core features of Microsoft which integrates with many products. You can use it to keep track of your kids daily activity on PC and Xbox, limit usage, and allow him to play games or use apps which is suited for his apps.
Share OneNote notebooks using Microsoft Family
Once you have included all the members of your Family under Microsoft Family, the whole experience becomes smooth and straightforward.
Create Shared Notes with Family
Visit onenote.com here to create your first Family Shared Notes. Once done, it will add all your family members to the sheet with edit access, and also send a link to the NoteBook. This sample Notebook offers pre-filled data which includes Household, Travel, Vacation and Health data. All of this can be modified.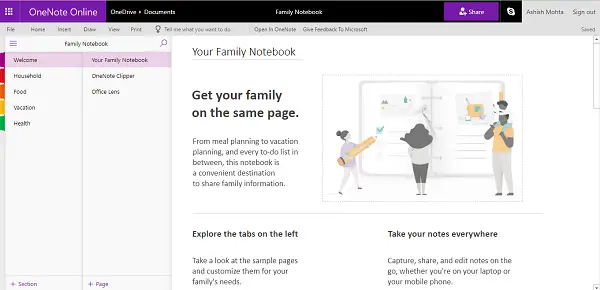 To see if the Notes has been shared, click on share link on top, and you should see all your family members included details on edit permission.
That said, if you are wondering what is new about it, then here is the deal. First, it instantly adds all the members of your family and gives edit permission. Second, you get a pre-defined template which makes your job lot easier. Many a time you spend a lot of time to get a template ready, but with this, its all set.
You can always add more members to this manually if you are planning a mega trip.
Its a great feature from Microsoft for a family who can use OneNote together. You can combine Office Lens and OneNote Clipper. While Office Lens can take snapshots of the bills and add it directly here, OneNote Clipper can be used to collect data from a various website for your travel. An easy way to create a list of all the places you plan to visit.
That said, I would have loved if more templates were available. I would love to see templates on Budget, Restaurant and takeout menus, Medical records and so on. What do you think about it?