We browse many websites daily, and it might have happened that you want to note down something important from a website. Maybe you want to read it later or keep it for your reference. While you can always bookmark the pages and read them later, do you need a better tool? OneNote has been one of the most popular notes taking applications available. Due to its cross-platform support, OneNote has been accepted widely. And now, taking instant notes has become easier with the OneNote Web Clipper extension for Chrome from Microsoft. OneNote Web Clipper is a Chrome Extension that lets you instantly take notes and save clippings from any web page to your Microsoft Account.
OneNote Web Clipper Chrome Extension
This Chrome Extension is an extension to OneNote's note-taking capabilities for Chrome. It makes taking notes easier and ensures that you can read your notes later anywhere. I used to bookmark articles and web pages for reading later and for future reference. But sometimes, I don't want the entire web page, so that is where this extension helped me a lot. To get started, once you've installed the extension, you need to log in with your Microsoft account. Microsoft Account is required to sync your notes with your account and is available everywhere.
Once you are done, taking a note is easy and follows a simplistic approach. Go to an article/blog or website from which you wish to take a note. Hit the OneNote icon beside the address bar. And it will take a while to load all the elements. Then you can choose from four different note-taking modes available. We've discussed each mode in detail as follows.
Full Page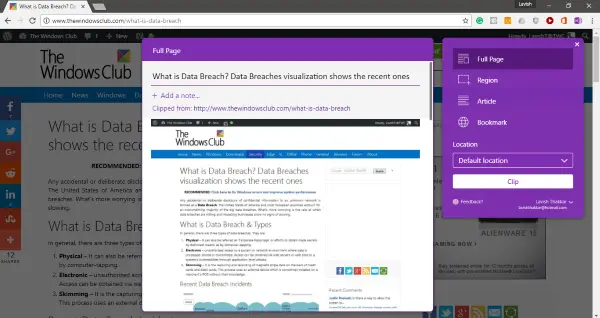 This mode can create a note with a full screenshot of the webpage. This mode comes in handy when you are in a hurry and are not in a position to sort out things you need. Apart from the full-length screenshot, you can add custom notes. Also, you can edit and add a custom title, and you are done.
Region
The region mode lets you capture a specific section of the page. You can select the area you want to capture, similar to the snipping tool. This mode is handy when you want only a portion, not the complete page. Like Full Page, you can add a custom title and notes to the captured screenshot.
Bookmark
This mode will be helpful for a majority of people. You can bookmark a link to a dynamic website if you want to save it. Bookmark mode works similarly to how the browser bookmarks are available.
Article
It is the most helpful mode if you want to take notes from an article or a blog post you are reading. This mode will automatically recognize the readable content and present it in a more precise format. You can easily highlight text and change the font of the text. Moreover, you can even adjust the font size for better readability.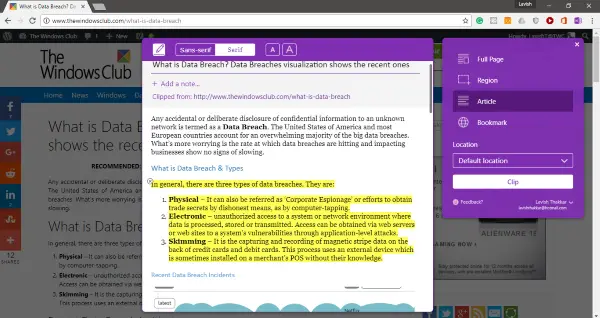 One thing I loved about this mode was that it could recognize articles accurately. And was also able to fetch images from the website. But one thing I did not like was that you could not edit the text. Suppose I need one paragraph, but I will have to clip the entire article and highlight that part. Or maybe you can take a region clip.
These were the four clipping modes available. You have many options; some are better than the old-school bookmarks we've used ever since. The best part about this extension is the OneNote back-end. It lets you access your notes from any other device. So, you can clip something and read it later on your mobile or any other device.
Click here to get OneNote Web Clipper.
Does it cost money to use OneNote?
OneNote is free to download and use. If you have a standard Microsoft account, you can use it by downloading the software on your PC or the web. However, some features are locked behind the Microsoft Office 365 subscription or Paid Office 2019 plan.
Is Microsoft OneDrive free?
Yes, Microsoft offers OneDrive as a free service, but it is limited to 15 GB of storage. Once connected with your Microsoft account on Windows PC, it is also available, and you can manage all the files locally.