Google Calendar is a popular tool that helps you manage all schedules, tasks, and so on. As it is available for mobile and can be synchronized with some other calendar apps, users can use this tool. One of the best features of Google Calendar is that you can create sub-calendars for different purposes.
Now, suppose you are working with a few people, and you would like to let them know about your schedules. You can email them – but Google Calendar is always a good option to opt for. There are several advantages of using Google Calendar over others. First, you can edit your schedules. Second, you can let others edit their timings. Third, it is portable, and you can use it from anywhere.
However, you must share Google Calendar with them to let others know about your schedules. You will get several options to customize your preference and privacy.
Share Google Calendar with anyone
It is straightforward and not much time-consuming. However, you have to use the web version to share Google Calendar with anyone. Also, you must know the email address of those people to share it.
To begin, open the Google Calendar and create a new one. If you want to share an existing calendar, there is no need to create a new one.
Just click on the three-dot vertical menu next to the calendar name. Then select Settings and sharing. It will open the settings page of the calendar.
Scroll down, and locate Share with specific people section. Here, you should see your email id and then the option to add people. You can type an email or add someone from your contacts.
You will get four options or roles:
Make changes AND manage to share: If you select this option, the user can make any kind of change in your calendar. At the same time, they can remove anyone from the sharing list.
Make changes to events: This option holder can only make changes in the event but won't manage the sharing.
See all event details: If you select it, the person will see all the events in your calendar but cannot make any kind of change.
See only free/busy: This option will allow users to see whether you are free or busy. Nothing will happen other than that.
So, select the role wisely and hit the Add Person button. If you want to remove someone from the sharing list, you can use the Trash can icon that is visible on the same page.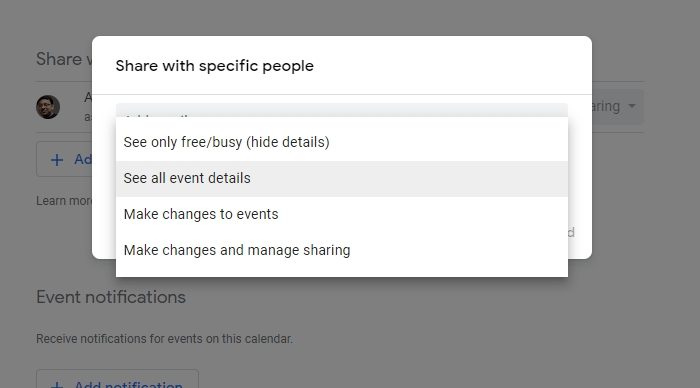 That's it! I hope this little tutorial will be helpful for you.
The Windows Calendar app is another good alternative to Google Calendar.
How do I create a calendar event in Gmail?
Click on any date on a calendar, and it will open a small form. To create an event, select Even, and then add date, time, add guests, Google meets link, Location, Description, and so on. Click on Advanced Option. and you can further configure a notification, color, guest permissions, and so on.
Read next: How to select Folders to Sync in Google Drive.