HP QuickDrop is an app developed by HP Inc. It lets users share files between their smartphone and HP computer wirelessly. If you have an HP computer and you do not want to use any third-party app to connect your computer and smartphone wirelessly, you can use HP QuickDrop. It transfers files faster than Bluetooth. This article guides you on how to use HP QuickDrop to share files between your smartphone and computer.
To use HP QuickDrop, you should have an HP computer or laptop with Windows 11/10 Home or Pro edition OS and any of the following smartphones:
Android phone or tablet with Android OS version 7 or higher.
iPhone or iPad with iOS version 12 or higher.
You can download HP QuickDrop on your smartphone from Google Play Store or App Store.
HP QuickDrop lets you share files between Phone & PC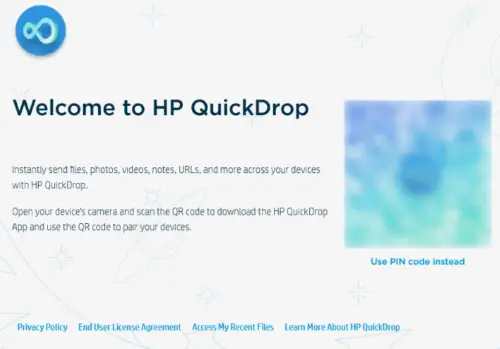 To use HP QuickDrop, you should have an active internet connection and both your devices (smartphone and computer) should be connected to the same WiFi network. Follow the below-listed steps:
1] Pair your PC and Phone
First you have to pair your smartphone with your HP computer or laptop. For this, launch HP QuickDrop on both of your devices and scan the QR code displayed on your computer from your smartphone. When you scan the code from your phone, a code will be displayed on both of your devices. If the code matches, confirm it by clicking on the "Code is the same, continue" button on your computer. If the code doesn't match, scan the QR code again. Alternatively, you can also pair your smartphone with the computer by using a Pin.
Read: HP Solution Center not working because of Flash.
2] Transfer the files
To transfer the files from one device to another, click on the attachment icon and select the file. You can also send a message from one device to another by clicking on the "New Message" icon.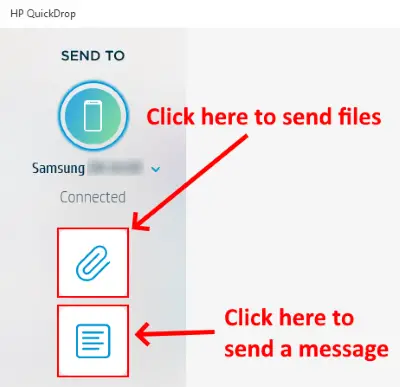 To open the folder where all the received files are stored, click on the "Received files" icon. You can pair more than one smartphone with your computer. To add another smartphone, go to settings and click on the "Add new device" option.
HP QuickDrop app for Windows 11/10 is available at Microsoft App Store.
Read next: How to use HP Support Assistant to update drivers and firmware.