Windows 11/10 comes with a lot of improvements and enhancements. It even allows you to search in Windows, Web and new Cortana interface. But the problem that lies with it, is that this search option uses Bing Search as the default option, and does not allow you to change it if you wish. There is no option in Windows to use Google, Yahoo, Yandex, or any other search as your default search to search the web instead of Bing. In this post, we will see how to make Google the default search for your Taskbar Search box in Windows.
Set Google as Default Search in Windows Taskbar
1] Using SearchDeflector tool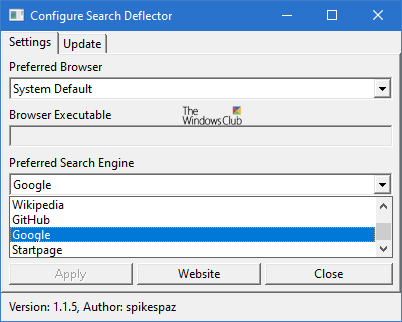 If you are a Google Search user and would love to search the web right from the taskbar or Start using Google instead of Bing as your web search engine, follow the steps below to make Windows 10's taskbar or Start search box show web results using the Google search. The best option you have is to use the Search Deflector tool.
Download and install SearchDeflector tool from Github
Run Search Deflector tool
Select the browser you want to be opened
You can set any of your installed browsers
Select the default search ending you'd like to set
You can choose from Google,  Startpage, Wikipedia, Github.
Click Apply.
Now when you search for something using the search bar, you will be asked – How do you want to open this? Select Deflector and also check the Always use this app option. Click OK.
You are all set!
2] Using Chrometana Chrome extension
Download and install the Google Chrome browser on your version of Windows. Once done, set Chrome as the default web browser.
Then download and use Chrometana extension for Chrome.
You can make Cortana search with Google, Yahoo or DuckDuckGo in Windows using Chrometana Chrome extension.
So now when you search using the taskbar, your default Chrome browser will open and the Bing search query will get redirected to Google or any other.