Windows 10 and Android has come a long way. Microsoft offers the Phone app which allows one to connect the phone, and then access data. However, it needs Microsoft Launcher or Cortana to make it work. It brings notifications, messaging options and much more. However, if you do not want to use Cortana or the Launcher, and only want to send text messages from Windows 10 using Android Phone, here is how you can do it.
Send text messages from Windows 10 with Android Phone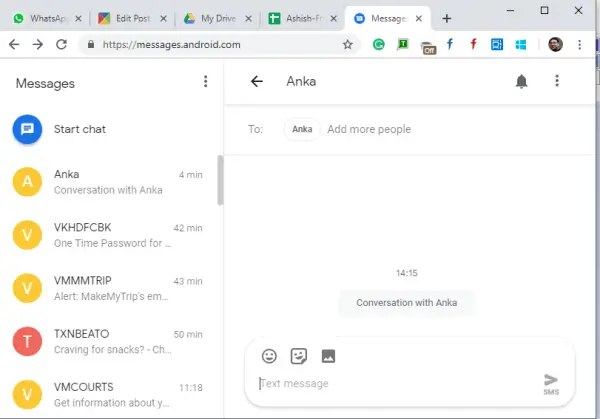 Launch Message app on your phone. It has to be the default messaging app.
Open messages.android.com on your favorite browser.
Click on the QR Code scanner button and scan the QR code which you see on the browser.
Give it a minute to sync all your message and show it to you.
To send a new message, click on Start Chat, then add contacts and send a message.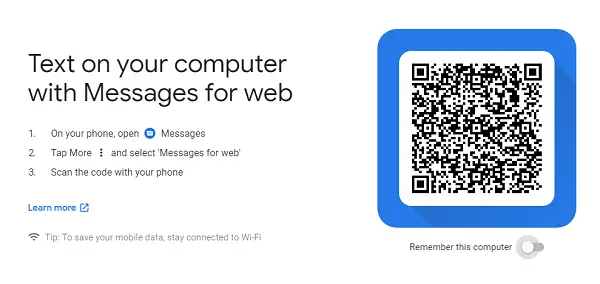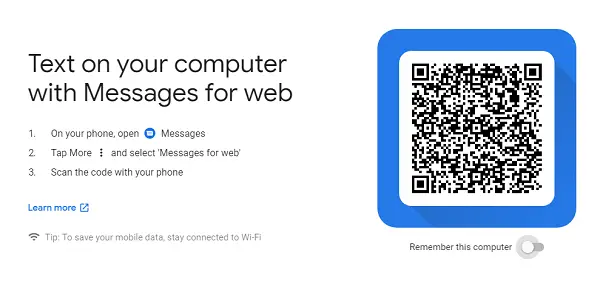 That's it. You can read, search, send a message all from the browser just like WhatsApp for the web. Also if you have plans to keep using it for a long time on that computer, make sure to toggle on the option which says remember me on this computer. In case you miss this option, go to Settings > Remember this computer.
There is a small drawback here. It is not meant for offline usage. While you get to see a preview of all the messages on the left-hand pane, all messages inside a chat are loaded in real time.
Android Message for Web Features
1] Signout of Computers
If you accidentally chose the option to remember on a public computer, you can remotely sign out. Launch your message app, click on the menu and select the message for the web. It will show a list of all the computers where you have used it. Click on the x button to sign out that computer.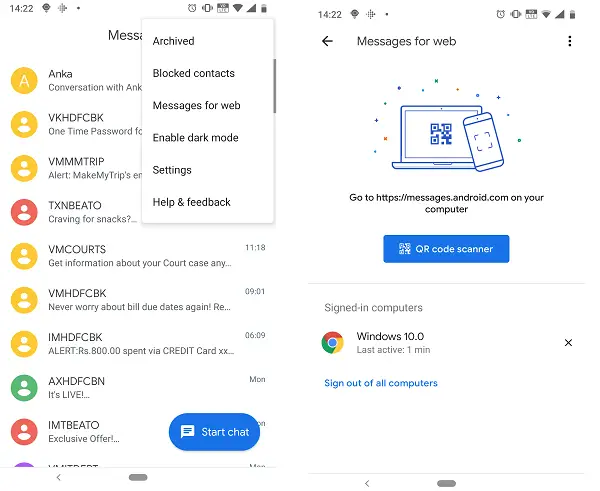 2] Dark Mode
Windows 10 comes with Dark mode, and so does this app. It can complement the dark settings. When on messages.android.com, click on the menu icon and choose the dark style.
3] Keyboard shortcuts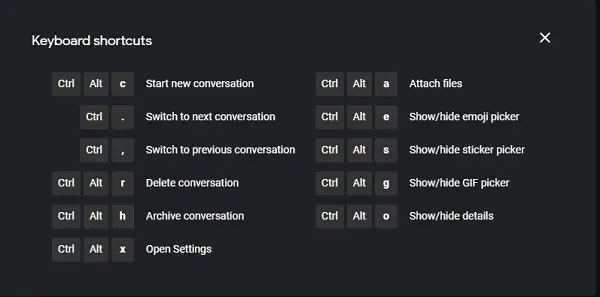 You can use keyboard shortcuts to quickly interact with messages on the browser. Here is the list:
Start new conversation
Ctrl +- : Switch to next conversation
Ctrl+ , : Switch to the previous conversation
Ctrl+ Alt + r: Delete conversation
Ctrl+ Alt+ h: Archive conversation
Ctrl+ Alt+ x: Open Settings
Ctrl+ Alt+ a: Attach files
Ctrl + Alt+ e: Show/hide emoji picker
Ctrl+ Alt+ s: Show/hide sticker picker
Ctrl+ Alt+ g: Show/hide GIF picker
Ctrl+ Alt+ o: Show/hide details
Press SHIFT +  / when you are not in a coversation, and this will show up.
Reveal Archived Messages
If you cannot find a message, and you are sure it was there, then it's in your archive. You must have archived these messages, but you might not remember it. Click on the menu and then select the archive option to reveal those messages.
In the age of social messaging, do you still use Messages app? Let us know in the comments.