Security Intelligence Updates for Microsoft Defender Antivirus are automatically installed with the Windows Updates on your PC. Microsoft installs it as a security patch and there is no way you can undo the installation. If the automatic security intelligence cannot be installed via Windows Update, your computer security could be vulnerable.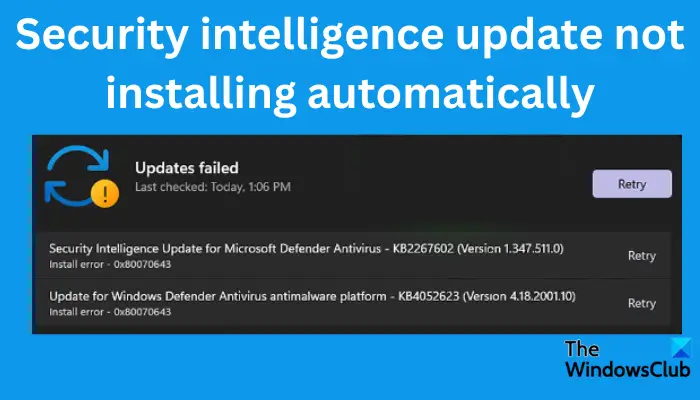 Microsoft Defender is popular among Windows users due to its ability to provide system security without interfering with how the system and other apps work. However, some users have reported that the security intelligence is not installed which is scary for those who cannot figure out how to resolve the issue. Additionally, some users stated that the update would get stuck after installing, while others said that it didn't install at all.
Fix Security Intelligence Update not downloading or installing automatically
If your computer cannot download and install Security Intelligence Updates for Microsoft Defender Antivirus, and you see error code 0x80070643, the follow these suggestions to resolve the issue:
Run SFC and DISM Tools
Run Windows Update Troubleshooter
Check this admin setting
Manually download install the Security Intelligence update
Before you begin, restart your computer and your router and see if it helps.
1] Run SFC and DISM Tools
The System File Checker will repair and replace corrupted Windows OS files, whereas the DISM Tool will repair a corrupted system image. Our portable freeware called FixWin will let you run them with a click.
Open FixWin, and from the Welcome page, click on Run System File Checker first. Wait for the scan to complete, and then restart your computer. If you feel you can also run the DISM Tool to repair the system image.
2] Run Windows Update Troubleshooter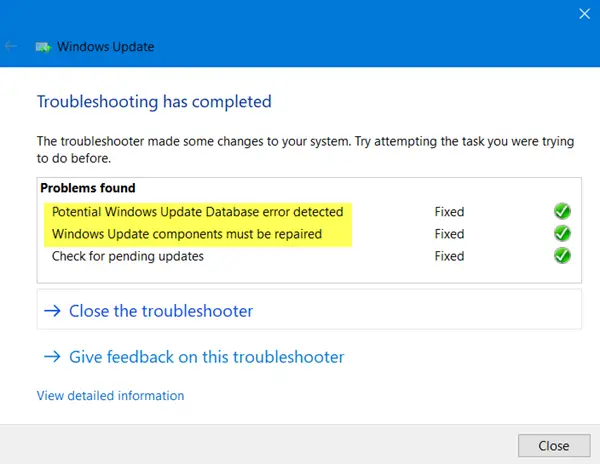 The Windows Update Troubleshooter is a utility created by Microsoft to identify and correct any problems that may affect Windows updates. Running the update troubleshooter may resolve this issue.
To run this utility, open your Settings app and go to Update & Security > Troubleshoot > Additional troubleshooters > Windows update > Run the troubleshooter.
If the troubleshooter finds an issue, it will notify you what to do.
3] Check this admin setting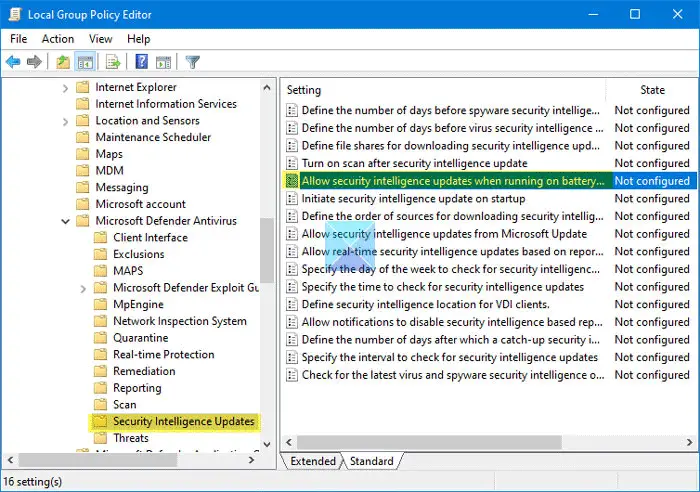 Check if your admin has disabled Security Intelligence Updates when running on Battery Power.
Read: Windows Defender not updating automatically
4] Manually download install the Security Intelligence update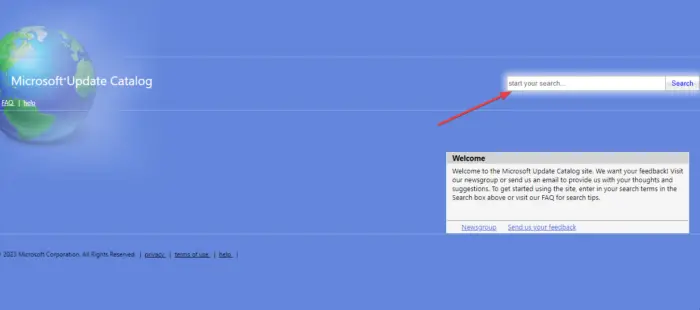 Microsoft gives Windows users an alternative to download and install updates manually:
Go to the official Microsoft Update Catalog. Locate the search box and type in the KB number of the update you want and click the search button.
Here, you will see several options; select the update corresponding to your Windows device and hit the Download button.
Then, locate the downloaded file on your PC and click it to install it manually.
Follow the on-screen directions to complete the manual installation process.
Read: How to manually update Windows Defender
We hope something here works for you.
Why is my antivirus not installing on my PC?
If your antivirus software does not get installed, it might be because it is not compatible with your system. It could also occur because of third-party antivirus software conflicts, corrupted app files, faulty installation setup, incomplete installation, etc.
Read: Virus & threat protection Engine unavailable
What happens if your antivirus is not updated regularly?
If your antivirus is not updated regularly, it leaves your computer open to the latest malware threats. If your computer is attacked by viruses, the current antivirus version will not be aware of some malware as it does not have the latest definitions. Unfortunately, the antivirus will not apply the best defensive mechanisms to protect your PC and your online activities. If you or your colleague click on links infected with viruses, everybody using the same network might be infected and that's a security threat. You might lose data, unauthorized access to your files, malfunctions of your gadgets, etc.
Read: Update Windows Defender even when Automatic Windows Updates is disabled.