One should always do whatever it takes to protect their USB flash drives from unauthorized access. A lot of folks never think about this, especially when they use third-party computer systems. Well, we want to urge everyone to take USB flash drive security seriously. Now, one of the best new tools for doing this is called USB Lockit, and it is available free of charge for both Windows 10 and Android operating systems.
From our couple days of use, it is safe to say USB Lockit does a good job at securing a flash drive, or any other drive that is formatted using FAT32/exFAT. Because the program is a portable tool, it simply means that you can use it anywhere just as long as the operating system is supported.
We should point out that USB Lockit does not use any form of encryption, just a PIN. This means it will not protect from hackers, but more than good enough for regular daily situations, and that's fine.
Secure your USB flash drive with USB Lockit
The first thing to do is to visit the official website and download the program to your hard drive. From there, transfer it to your USB flash drive.
OK, so using this program is pretty simple, to be honest. When you plug your flash drive into a computer, fire up the tool that is sitting on your drive, and right away you will see the option to add a new PIN code.
Type your PIN in the NEW PIN input field, then do it again in the CONFIRM PIN input field. After adding the PIN, hit the LOCK button and all access from third-parties to your flash drive should now be blocked.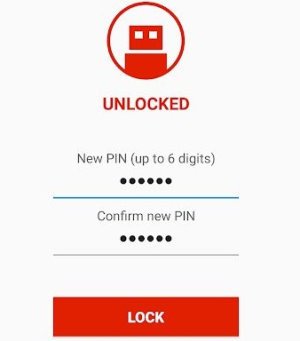 In order to open and gain access to the drive, you or anyone else will be required to type the PIN. If this is no done, then all parties will be locked out of the drive.
The main gripe here is that it does not work with NTFS files.
Maybe the developer will release an update with this feature in the near future.
PS: More USB security software here.