A lot of users are reporting that when they try to access a website or a local web server, they see SEC ERROR REUSED ISSUER AND SERIAL warning. This issue is usually, reported in the Firefox browser – but a similar error may be seen in Chrome, Opera and Edge too. The error code comes with the following error message.
Secure Connection Failed

An or occurred during a connection to <IP address or website URL>. You have received an invalid certificate. Please contact the server administrator or email correspondent and give them the following information. Your certificate contains the same serial number as another certificate issued by the certificate authority, Please get a new certificate containing a unique serial number. Error code: SEC_ERROR_REUSED_ISSUER_AND_SERIAL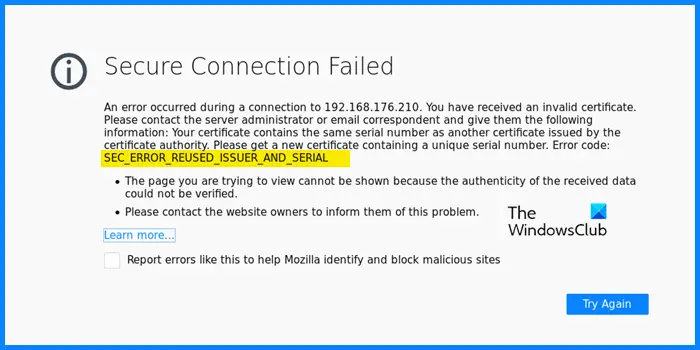 In this article, we are going to talk about this in detail and see what you can do to get rid of this issue.
Why do I keep getting Secure Connection Failed?
There are various "Secure Connection Failed" errors, but for the sake of this article, we are going to talk about the SEC_ERROR_REUSED_ISSUER_AND_SERIAL error. The usual cause of this issue is corruption. Both your browser's cache and certificate can get corrupted, which as a result can cause trouble for you. We will see what should be done in that case.
The issue can also be because of your router. You or the admin may have configured your router to block some websites. These causes and some other reasons will be talked about in this article. So, without wasting any time let us go to the troubleshooting guide.
SEC_ERROR_REUSED_ISSUER_AND_SERIAL
If you are seeing SEC_ERROR_REUSED_ISSUER_AND_SERIAL, Secure Connection Failed error mesage in Firefox, check out the following solutions to resolve the issue.
Restart your browser and system
Delete Certificates
Clear Browsing Data and Cache
Allow your browser through the Firewall
Check your Router
Let us talk about them in detail
1] Restart your browser and system
First of all, restart your browser and see if it works. This is especially useful if the issue is occurring because of a glitch. If restarting the browser doesn't work, try rebooting your system. A lot of the processes that can interfere with your browser will stop once you restart.
2] Delete Certificates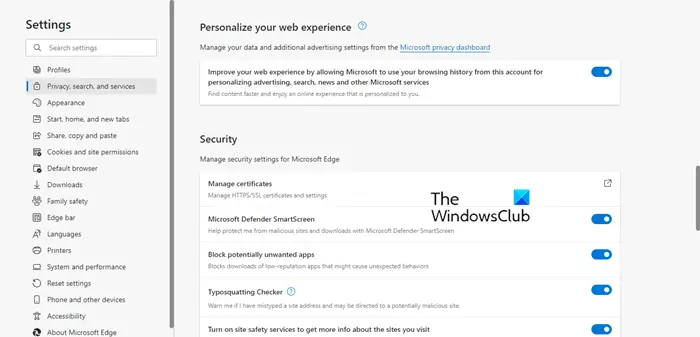 The error message is talking about an invalid certificate. However, we don't know which certificate it is talking about. That is why we are going to do trial-and-error here. What we need to do is disable certificates one by one until you stumble upon the invalid certificate mentioned in the error message.
Delete Invalid Certificates in Firefox
Open Firefox > Settings (after clicking the three horizontal lines).
Go to Privacy and Security.
From the Certificates section and click View Certificates.
Select a certificate and click Delete.
Delete Invalid Certificates in Chrome
Open Chrome and go to its Settings (just paste chrome://settings and hit Enter).
Go to Security and Privacy > Security > Manage certificates.
Select one certificate and click Remove.
Delete Invalid Certificates in Edge.
Go to edge://settings > Privacy, search and services > Manage Certificates. Select a certificate and click Remove.
Delete Invalid Certificates in Opera
Launch Opera and navigate to the Settings.
Click on Advanced.
Go to Privacy & Security > Security.
Select Manage certificates.
Select a certificate and click Remove.
After removing the problematic certificate, your issue should be resolved.
3] Clear Browsing Data and Cache
Corrupted cache and browsing data can also trigger the error code in question. To resolve it, we need to clear the cache. You should know that this won't remove your personal data and settings, so, there is no harm in doing that. Go ahead and clear cache and browsing data of Firefox, Chrome, Edge, or Opera. Then, restart your computer and check if the issue persists.
4] Allow your browser through the Firewall (Temporary workaround)
Your firewall can block some of the sites if it thinks that it is malicious. However, if you are certain that the site that you are trying to access is genuine, try allowing the browser through the Firewall. This can work for you, it is also recommended to then remove the app from the whitelist, otherwise, your computer will be at the risk of getting infected.
5] Check your Router
One of the reasons why you are seeing this error is your misconfigured router. It is blocking the site that you think is fine, there are two solutions for different scenarios. If you have manually blocked those sites, then this might be a good time to allow them. On the other hand, if you have nothing to do with the site, contact your admin or your ISP and ask them to provide an update that will fix this issue.
We hope that your issue is resolved by these solutions.
How to fix Sec_error_revoked_certificate Firefox?
The Sec_error_revoked_certificate error occurs in Firefox due to the expiration of the certificate. Check your certification expiration status (if it is your website). You should contact your certificate issuing authority to resolve this issue. If you want to access the website, you can disable the "Query OCSP responder servers to confirm the current validity of certificate" option in Firefox Settings. But this step will reduce Firefox's security. Hence, you should enable this option again when you finish with that site.
Following are some other common Secure Connection Failed error codes.