Many times, Windows users need to edit the Windows Registry, to either fix a problem or tweak their system. If you know the full path of the registry key, things become easier, since you can easily navigate to it, by expanding the tree. But this does take some time and an easier way would be to simply search for and jump to the registry key. You can search Windows Registry values, keys, data, settings using Regedit's Find box or you can use a feature-rich, yet free Registry Finder or RegScanner software.
How to search Windows Registry
Regedit lets you search using the Find feature in the Windows Registry. To access it, you have to click on Edit menu and select Find.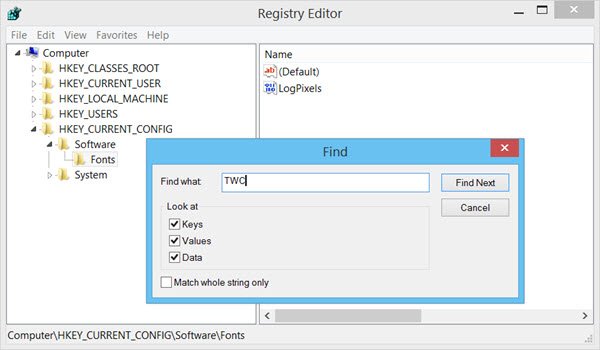 The Find box will let you search for items in the Windows Registry, and this includes Keys, Values, and Data. You can also set it to match whole strings only. Hitting the F3 key will take you to all the found searches, one after the other.
While the Search function in Regedit is pretty basic, if you are looking for more, you can have a look at the following free registry finder tools:
Free Registry finder software
1] RegScanner
RegScanner is a free registry finder and scanner software that allows you to scan the Registry, find the desired Registry values and display them in a single list. Double-clicking on the desired Registry item from the list will make you jump to that item instantly. The tool also lets you export the found Registry values into a .reg file.
RegScanner has a useful feature that lets you jump directly to an item from the path copied to your clipboard. If you have copied a registry path from say, a Notepad, then if open RegScnner and from the File menu select Open Clipboard Text In Regedit – or simply press F7, and it will open Regedit and directly navigate to the copied key.
Read: How to directly jump to any Registry key.
2] Registry Finder
Registry Finder is a portable tool to search the Windows registry. It too displays the results in a list, which you can edit items or jump to items in Regedit. It too lets you save the results to a .reg or a text file. Its Replace feature lets you easily replace a string with another.
All operations that modify the registry including deletion and replacement can be undone and redone. The operations are listed in the Undo History window.
This tool also allows you to search for hidden registry keys, which are not otherwise accessible using Regedit. Hidden Registry Keys are those who have a null character in the name.
If you are looking for a full-fledged registry manage software, check out these freeware:
Registrar Registry Manager Lite is a free tool for system administrators and power users that offers a complete and safe solution for working with and maintaining the registry on you own desktop as well as remote computers on their network.
Registry Commander will allow you to manage your Windows Registry easily and efficiently. While Registry changes can be made using the built-in Registry Editor, Registry Commander offers you many more features that let you manipulate and control the Registry more efficiently.