If you notice that Screen Time Limits feature is not working on Windows 10 PC or Xbox One, then this post might interest you. In this post, we will outline the measures you can take to redress the issue.
For a breakdown of your child's overall time spent on each of their devices, the Screen time section indicates when and for how long your child used their devices throughout the week. You'll see a list of how much time they spent on their devices overall by each day, and also how much time they spent on each device during the entire week. To adjust your child's screen time limits, select Settings.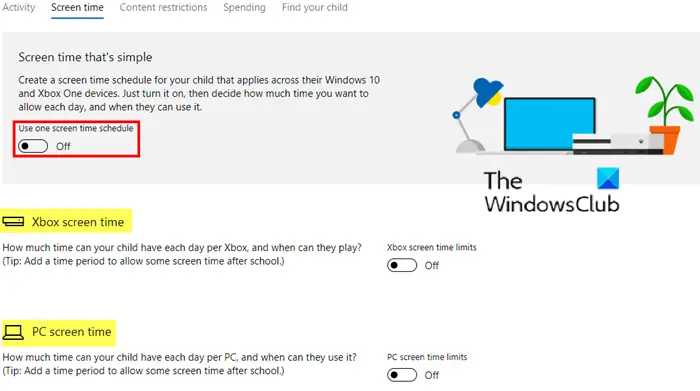 Screen Time Limits not working on PC or Xbox
If you set up screen time but find that the Screen Time Limits feature is not working as expected, here are a few things you can try:
Set up one schedule
Update Windows 10
Restart your device
Sign in
Keep it in the family group.
1] Set up one schedule
With the latest update of Windows 10, you're able to set up one schedule that'll apply to all of your child's devices. This means if you give them five hours in a day, they'll have five hours between their Xbox One and Windows 10 devices. Otherwise, time gets tracked separately, so one hour of screen time means one hour per device.
2] Update Windows
Select Start > Settings > Update & Security > Windows Update > Check for updates and install any available updates.
3] Restart your device
Select Start > Power > Restart.
4] Sign in
Make sure your child is signed in with their Microsoft account on their device. If they are, you can check to make sure their account is syncing up right. SelectStart > Settings > Accountsand follow the prompts to verify their account.
5] Keep it in the family group
Accounts outside of your Microsoft family aren't subject to screen time limits that you set.
To prevent kids from creating new accounts, on your Xbox, do the following:
Press the Xbox button.

Select

System > Settings > System > Signed-out content restrictions.
Create a guest key and turn off Let people download & make new accounts.
From now on, you'll need a guest key to add new accounts.
Hope this helps!