Microsoft Streams is a video streaming tool in Office 365. Consumers use it to deliver studio-quality Live video events across their organization. In addition to broadcasting, they can monitor audience engagement in real time. This guide will share how to schedule/stream Live events using Microsoft Streams.
What is Microsoft Streams?
Microsoft Teams live events are an extension of Teams meetings that enable organizations to schedule and produce events that stream them online. It also allows organizations to host video and share it across their portals. Employees can securely upload, share, and manage videos within their organization, providing a platform for all to create and collaborate on video content.
Schedule Live events using Microsoft Streams
There are two parts here. First is to create and schedule, and the second is to stream the Live event. Let's take a look at them one by one.
Create and schedule a Live event

Open the Microsoft Stream portal
Create Live Event
Assign permissions & invite people
Save

Stream Live event

Find the RTMP server ingest URL
Setup the encoder with the URL
Press the Start event button
1] Creating & scheduling Live events using Microsoft Streams
Launch your Microsoft Stream dashboard, choose 'Create', and select the 'Live event' option.
Fill in the necessary details under Event Setup when 'Details' pane opens. Details include name, description, and event date/time.
These details will be used to generate an automatic preview for end users.
Now, select the permissions pane to choose individuals to whom you would like to provide access to the video.
When configured, the options will take effect after the event is complete. Choose the 'save' button to save your Live event.
2] Streaming your Live event using Microsoft Streams
Under Encoder setup, choose "Configure manually" under Select encoder drop-down.
Next look for an RTMP server ingest URL. It is available at the bottom end. Copy it.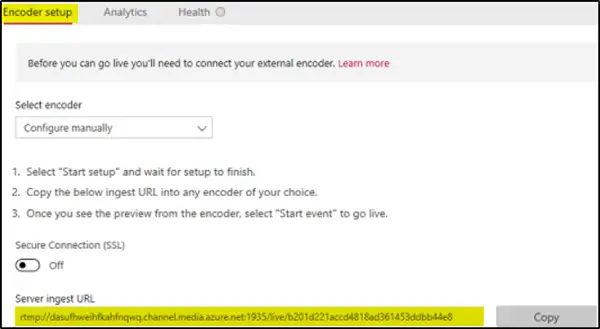 Next, go to Produce Controls, and click on the Start Setup button.
When the setup is ready, paste the server ingest URL into your encoder to send the Live encoder feed to Microsoft Stream.
At this point, you should be able to see the producer preview update. Click on Pre-Live to view the setup.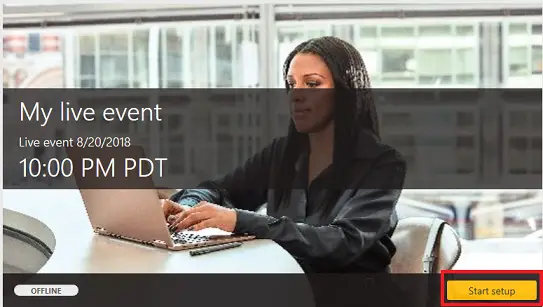 Next, select 'Start event' if you are convinced about the setup.
After the event starts, audience members can view the event.
Click the 'End event' button on the producer controls to end the Stream event. The action, when confirmed, will conclude the event and make the content immediately available for VOD.
It is essential to mention here that you should end the event in Stream before stopping your encoder. If you fail to do this or do the opposite of it, an error message is displayed before viewers.
Note: An RMTP server ingest URL is a Real-Time Messaging Protocol source from which data can be taken and consumed instantly. In our case, the video you are streaming is available for immediate use through the server ingest URL.
We hope this guide made it easy for you to understand how to schedule/stream Live events using Microsoft Streams. For more information, visit Microsoft.com.
Is Microsoft Stream being retired?
Microsoft Stream (Classic) is being replaced by Stream (on SharePoint) by February 15, 2024, and it's recommended to start using Stream (on SharePoint) by uploading videos to SharePoint, Teams, Yammer, or OneDrive.