Are you running short of storage space? This is the question that you always have in your mind while saving data or while transferring data on your Windows PC. Today,  storage space is one of the major issues that haunt many of us. Irrespective of whether you work as an individual or in some small-scale organization, a shortage of space is always a critical problem to deal with. While purchasing a hard disk, you are very much aware that in a few months, your PC again runs out of space.
Scan for lost disk space on your PC
MeinPlatz is a portable free Disk Space Analyzer software that is meant to discover the lost space on your system and save disk space. MeinPlatz which literally means "My-Place" is fast and smooth running software that scans your computer for lost disk space. It scans your computer and then lists the files and folders down along with the space they occupy.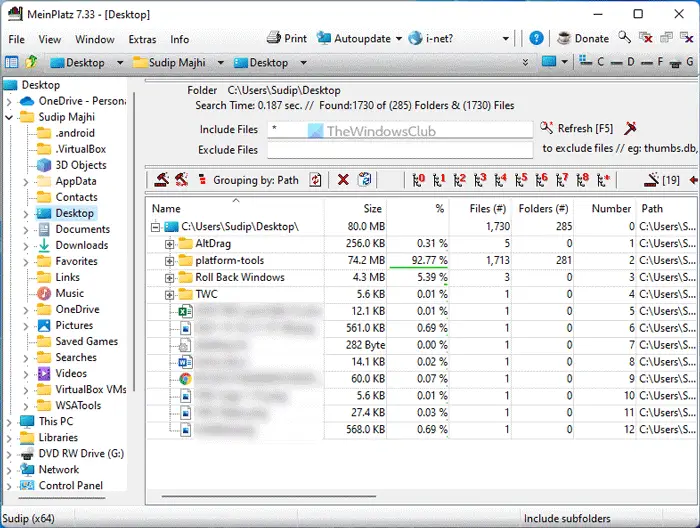 The graphical user interface of the application is quite simple and easy to use. You just need to select the folder/drive/partition. All the information regarding your selected item is quickly displayed on the screen. Then you can analyze the number of files it contains or how much space it is occupying. Besides this, you can also sort the result by different ways, depending upon your requirement. It may happen that there are few files or formats which you don't want to include in the scanning process. For this, you can mention that file or format in the 'Exclude' section of the page.
Features of MeinPlatz
Magnifier: MainPlatz includes as a Magnifier. So everything that is on the screen can be made bigger in appearance.
Information: File size, number of files present in the folder, etc. is shown.
Export: Results are exported in a stand-alone, file with different format like CSV, TXT and HTML etc. which can be reviewed later.
Printing is also possible, with Print Preview.
Grouping: With MeinPlatz grouping of file based on their file extension, modification size, etc. can be done very quickly and effectively.
Portability: Apart from being free, the software is also portable.
MeinPlatz really proves to be very helpful for people who usually have to deal with the problem of shortage of storage space. With this software, they are able to save disk space by scanning the whole computer and searching the lost space.
MeinPlatz download
Click here to download the freeware.
How do I find missing disk space?
There are two ways to find missing disk space in Windows 11/10. First, you can use the Disk Management panel. Second, you can use third-party software like MeinPlatz. When it comes to finding lost disk space on your computer, MeinPlatz is a much better option than Disk Management.
How do you check what's taking up disk space on Windows?
You can find large files on Windows 11/10 using two different methods – manually or using a third-party tool. There are multiple tools available in the market, but SpaceSniffer is one of the best options. It displays a detailed report so that you can find all the information about your files and folders.
What is MeinPlatz?
MeinPlatz is a freeware that allows users to scan for lost disk space and recover them on the go. It works on HDD as well as SSD on Windows 11, Windows 10, and other older versions. You can run the respective scan on all partitions, drives, and folders so that you can extract the lost space within moments.
How do I run a disk scan?
To run a disk scan on Windows 11 or Windows 10 computers, you do not need third-party apps. For that, right-click on the drive and select the Properties option from the context menu. Then, switch to the Tools tab and click on the Check button. If it asks for UAC permission, click on the Yes button.
Disk Savvy, Disk Space Fan, Better Directory Analyzer, Space Sniffer, and Saleen File Pro are similar software that may also interest you! So will the new Disk Footprint Tool in Windows which will let you carry out several tasks pertaining to Disk Space usage.