It may happen at times that you may want to know where all your disk space has gone or maybe which files or folders are eating up how much space. In such a case you need to make use of a Disk Space Analyzer software.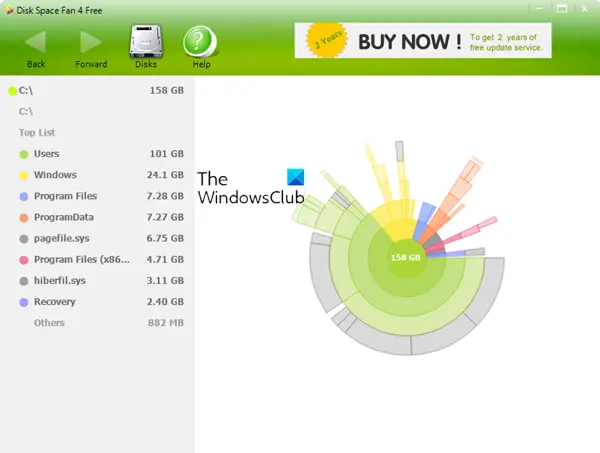 Disk Space Fan for Windows 10
Disk Space Fan is a freeware disk space analysis tool with nice eye-candy and graphics, for Windows 10/8/7/Vista, which can help you.
This tool will help you identify where your disk space has gone and possibly help you to free up disk space by quickly finding and deleting useless files.
It displays disk space usage with a nice chart. You can navigate the folders easily with the chart. It is also integrated with Windows Explorer to open, delete and browse files or folders.
The tool has fantastic Disk visualization & animation. The folders and files are sorted by their size to easy identification. Whats more, it also integrates itself with Windows Explorer. This helps you to browse, open, and delete easily.
Features:
Scans directories and drives to find out the useless and larger files
Diagram of a flower show in the form of free disk space
Browse/open files on ringschart
Preview a picture on ringschart
Support for Unicode
Save scan history
Network path support.
Visit its Home Page to download this freeware. The free version ships with limited features.
TIP: Windows 10/8.1 includes dfp.exe. This Disk Footprint Tool in Windows will let you carry out several tasks pertaining to Disk Space usage.
SpaceSniffer is a similar freeware disk space analysis tool that may interest you. Its animation is a treat to watch!