Windows OS allows us to search any sort of files on our PC. When we want to find some files and if we are not sure of the location, then the Search function comes in handy. To search for a specific file on our PC, we perform an Advanced Search using parameters like file extension, date modified, keywords, date range, and many more options. But when we want to search files that include the same options every time, then it is pretty time-consuming doing the same thing again and again. So, in this post, I will let you know how to save a search in Windows so that you can perform a search without retyping the entire search criteria again.
Save A Search in Windows 10
If you want to search certain types of files regularly, then it is advised to save the search for easy access. Saving the searching does not depend on the number of parameters you have added or where you perform the search. It is very simple and easy and let us see how it is done.
Perform the search in any File Explorer with the parameters you want. Now, you can see the "Search" tab and under it click on "Save Search". In Windows 10, "Save search" is found below the address bar.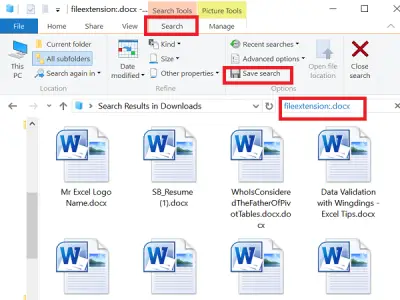 Give it the name you want so that you can identify the search parameters easily. By default it gets saved searches saves in "C:\users\<username>\Searches" folder, in Windows 11/10/8. In Windows 7 saved searches are found in "Favorites" folder. But you can save the search anywhere you want.
You can also save the search by dragging the icon present in the address bar to the location where you want.
If you save the search by doing so, then Windows will create the shortcut to the search. Double-clicking on the shortcut will perform the search.
So, when you want to search for a file that meets the criteria of the saved search, just double-click on the saved search. This will fire the search in the file explorer and you can see the search results.
Pin the Saved search to Start Menu
Now, here comes the handy feature in Windows 10. If you are using Windows 10, then you can pin the saved search to the Start menu. Right-click on the search you have saved and click "Pin to Start" from the options shown in the context menu.
You can see the pinned search in the Start menu.
This is the way to save a search on a Windows PC
This post will show you how to delete Windows Search History or re-create deleted Searches folder.