When you have a lot of tabs open but have no time to read, it's best to bookmark them. If you are using Microsoft Edge, we will show you how you can save all Tabs as Bookmarks in Edge. There are two ways of doing it. One is the direct way, while the other is using the 'Set your Tabs aside' icon to the left side of the tab bar. It's a workaround but has an advantage.
How to save all Tabs to Favorites in Microsoft Edge
If you are an Edge (Chromium) user and want to save all tabs or pages as Favorites, here are the steps you need to follow:
Launch Edge browser
Open the tabs that you want to save as Favorites
Right-click on any Tab and select Add all tabs to favorites
Alternatively, simply click Ctrl+Shift+D
Click on Save and that's it.
How to save all Tabs as Favorites in Edge Legacy
At times you really don't want to save as favorites but want just to keep it aside. You aside all your research work, and after you have finalized (by adding, and removing some), then you choose to finalize it. Now let's take a look at both methods.
1] Directly Save all Tabs as Favorites in Edge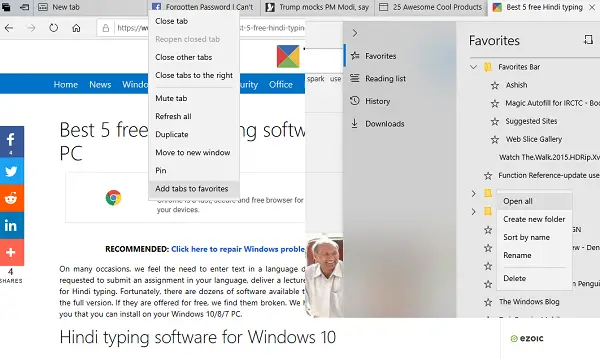 Once you are sure the number of opened tabs should be bookmarked or added to favorites, right-click on any of the tabs, and select "Add tabs to Favorites".
Using these steps, all the opened tabs in Microsoft Edge can be added to the Favorites list or bookmarked in one go
If you want to see all the favorites again, just press Ctrl+I. In the new Microsoft Edge, this shortcut is Ctrl + Shift + O.
All your favorites will be available in one single folder which has the current date. You can now right-click and choose open all.
2] Save All Tabs in Aside as Favorites in Edge
While it is easy to save all Tabs as Bookmarks in Edge with the above method,  you don't want to create a messed-up list of everything. This is where Edge Set Tabs Aside feature comes into play.
Open the Aside section, and locate the set of tabs you want to add to favorites.
Right next to the Restore tabs, click on the three dots, and click on Add tabs to favorites.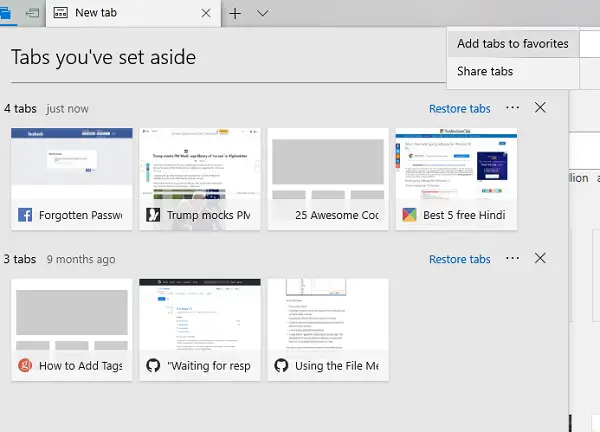 This will be added to a folder with the current date. Later you can choose to open all just like in the above section.
Do note that Microsoft Edge Legacy was the default web browser in Windows 10. But Microsoft ended its support on March 9, 2021. After the end of support, Microsoft suggested users install the new version of Microsoft Edge by downloading it from the official website. Later, on April 13, 2021, Microsoft released the cumulative update for Windows 10 that replaced Microsoft Legacy with the new Microsoft Edge.
Today, Microsoft Edge Legacy is not available on Windows 11/10. Hence, the "Set your tabs aside" feature is also gone. Instead of this, a new feature called Collections is added to Microsoft Edge.
I like the second method of adding tabs to Favorites unless I am in a hurry. This makes it easy to remove added tabs, and they also have a preview.
How do I show bookmarks on all tabs?
To show bookmarks on all tabs, you have to enable the Bookmarks bar in your web browser. You can do so by opening your web browser's settings or by using the keyboard shortcut Ctrl + Shift + B. This keyboard shortcut may not work in all web browsers but it works in some popular browsers, including Edge, Firefox, Chrome, and Brave.
Are bookmarks the same as favorites?
Bookmarks and Favorites are terms that can be used interchangeably for saving the URLs of your favorite websites in your web browser. Microsoft Edge uses the term Favorites, whereas, browsers, like Firefox, Chrome, Brave, Opera, etc., use the term Bookmarks.
That's it.
This post will show you how to save all open Tabs or Pages as Bookmarks or Favorites in Chrome, Firefox, IE.